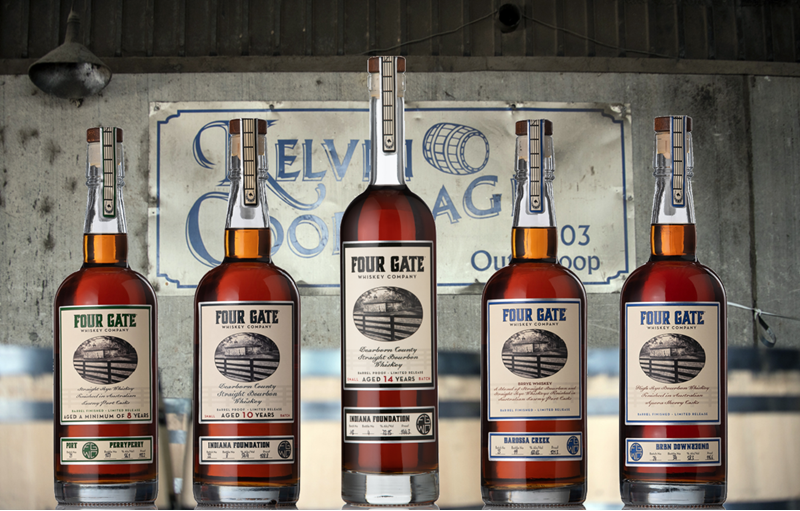 Four Gate Whiskey Company has announced new whiskey batches 21 through 24 and a Hazmat Micro-Batch releases for this summer.
Batch 21 has been named "Port PerryPerry" and is an 8-Year Indiana Rye Whiskey finished in Australian Tawny Port Casks. 2,148 bottles were produced at 112.2 proof. It will be sold in KY, IN, TN, GA, FL, TX, LA, IL and online at an SRP of $199.
Batch 22, called "Indiana Foundation" and is a 10-Year Indiana Straight Bourbon Whiskey, unfinished, bottled at a barrel proof of 108.8 Proof. Only 1,130 bottles were produced with limited distribution in KY, IN, LA IL, and online at an SRP of $199.
Batch 23, called "Barossa Creek", is a blend of 6- & 7-Year Kentucky Straight Bourbons and an 8-Year Indiana Straight Rye Whiskey and finished in Australian Tawny Port Casks clocking in at 121.3 Proof. There are only 1,280 bottles and they will be made available for sale in KY, GA, TN, FL, TX, LA, and online with an SRP of $199.
Batch 24, called "BRBN Downunder", is a High-Rye Indiana Straight Bourbon Whiskey, aged 6.5 years, and finished in Australian Apera Sherry Casks. The underlying bourbon mash bill on this batch is 60% corn, 36% rye, and 4% malted barley. 2,178 bottles were produced at 116.6 Proof. They will be sold in stores in KY, FL, TX, IN, LA, IL, TN, and online with an SRP of $199.
Additionally, Four Gate Whiskey Company located just 3 barrels of extra-aged, extra-high-proof Indiana Straight Bourbon Whiskey. The Angels' Share was so great on the barrels that the team was only able to produce a mere 129 bottles. This ultra-limited release is a 14-Year Indiana Straight bourbon clocking in at a HAZMAT level 144.3 Proof. SRP will be $450 per bottle and is also called Indiana Foundation 14 Year, with the batch number designated "MB" and the Age Statement prominently displayed. This bottle is geared towards collectors and fans of extremely high proof extra-aged rare Bourbon. This "micro-batch" will be released only at a Louisville, KY location that's TBA. More information will be announced in the coming weeks.
You may also notice something a little different with the look of some of this summer's releases. Earlier this year, Four Gate Whiskey Company faced a temporary glass bottle shortage. The decision to pause production or switch bottles was weighed heavily, but ultimately, the team decided to adapt and use the new "Gettysburg" style bottle. Once the final product was produced, the team liked the new bottle so much they decided to keep it for some batches going forward.
"We managed to find a good supply of the old Holly bottles we used previously," Said Chief Barrel Officer Bob D'Antoni, "But we like this one too much to stop using it as well."
Lastly, Four Gate Whiskey Company is also thrilled to announce offical distribution to the state of Florida through Republic National Distributing Company starting this summer.
Four Gate Whiskey Company started in 2018 with the goal of releasing a limited number of unique batches of whiskey products each year. With its first product launch of 11-year-old Kentucky Straight Bourbon Whiskey Finished in Sherry-Rum casks in April 2019, the team is excited to unveil the other small batch products with unique finishes in years to come.
Kelvin Cooperage, founded in Glasgow, Scotland in 1963 and now based in Louisville, KY, is a full-service family-owned cooperage supplying new and used barrels to wine, spirits, and beer producers around the world. For more information, visit fourgatewhiskey.com.
---
Barrel Proof
,
Blended Whiskey
,
Bottle Releases
,
Finished Whiskey
,
Four Gate Whiskey Company
,
High Rye
,
Indiana Straight Bourbon Whiskey
,
Indiana Straight Rye Whiskey
,
Kelvin Cooperage
,
Kentucky Straight Bourbon Whiskey
,
Non-Distiller Producer
,
Republic National Distributing Company
,
Rye Whiskey
,
Straight Bourbon Whiskey
---
You might also like
---