Old Forester 1910 Extra Extra Old is an experimentation in double barreling paired with ex-tended finishing.
This 117 Series release is bottled in a 375ml format and was released December of 2022. This particular batch of American whiskey follows the same formula as Old Forester 1910 with one very important exception. Aging.
Before we dive into the details regarding this whiskey, lets first look at how 1910 Old Fine Whiskey itself, came to be. On October 22, 1910, the Old Forester Distillery located at 117 Main Street in Louisville, Kentucky caught fire.
After the fire was extinguished, cleanup started, and a batch of mature whiskey was discovered that needed to be relocated due to fire damage. New barrels were sourced so that the liquid from the damaged barrels can be re-barreled and then set aside to be addressed later.
Obviously, the aging process would continue and when it was time to bottle the batch again, it was discovered that what emerged was a full-bodied whisky, remarkable enough to become an entirely new expression for the brand – Very Old Fine Whiskey. This happy accident resulted in the first documented double-barreled whiskey.
---
---
Today, we know this as Old Forester 1910 Old Fine Whiskey that is part of the Whisky Row Series. The distillery honors this accident / experiment, and the bourbon is currently produced to specification, aged, then dumped and proofed to 100 (50% ABV) before being re-barreled into a toasted and heavily charred secondary barrel for a period of six to nine months.
1910 Extra Extra Old follows the same process but the team at Old Forester decided to experiment and extend the finishing process to a full 24 months. Let's have a taste and see what the Extra Extra time in the barrel has done.
---
The Facts
Name:
Old Forester 117 Series – 1910 Extra Extra Old
Producer:
Old Forester DSP-KY-354 / DSP-KY-15007(TTB)
Company:
Brown-Forman Distillers Co.
Origin:
Kentucky
Classification:
Kentucky Straight Bourbon Whiskey
Style:
Small Batch, Non-chill filtered, Double barreled
Mashbill:
72% Corn, 18% Rye, 10% Malted Barley
Barrel entry proof:
125 Proof
Barrel char:
Brown-Forman Cooperage #4
Second Barrel entry proof:
100 Proof
Warehouse:
Undisclosed
Vintage / Release: Batch 001 | Fall 2022
Age: NAS, Second barreling increased from 7-9 months to 24 months
Proof / ABV: 93 / 46.5% ABV
Closure: Wood stopper w/ natural cork
Format: 375ml clear glass bottle

Availability: Limited
Suggested Retail Price: $59.99
Our cost: $59.99
---
Tasting Notes
Tasted in: Copita, neat
Color: Brown Sherry
Nose: Inviting maple, caramel and hint of toffee.
Palate: Maple, coffee, dark chocolate & charred oak.
Finish: Short finish with notes of mocha coffee trailing off to notes of charred oak.
---
Final thoughts
The nose was very sweet an inviting and it had me excited to have a sip, however it was just overpowering on my palate.
I expected to taste things that I love about the original Old Forester 1910 Old Fine Whiskey with its sweet and rich flavors but with the volume turned up a bit. Instead, it just came off tannic and over oaked or in this case, Extra Extra oaked and just seem to overtake and overpower.
While I can appreciate the experimentation effort, this release was simply just not for me.
Maybe 24 months is just too much time in that second barrel. Maybe 1910 Old Fine Whis-key as it sits is just right. Perhaps.
While this was not my favorite expression from Old Forester, be sure to try a pour and experience it for yourself. Maybe even try a side by side with the standard 1910 for a comparison. Until next time, Cheers!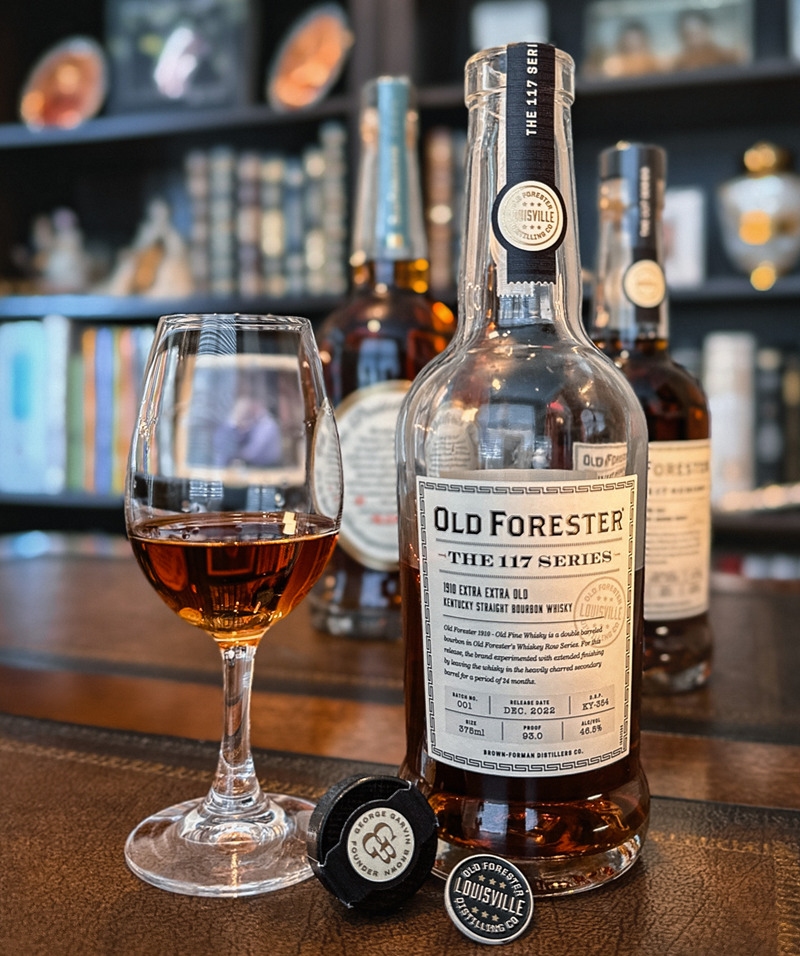 ---
---
You might also like
---