Boone County Distilling Company's roots go all of the way back to 1833. At the time, it was called the Petersburg Distillery and was founded by William Snyder, (who also had a pet bear, more on that later) in what is known today as the city of Petersburg, Kentucky located on the banks of the Ohio River in Boone County.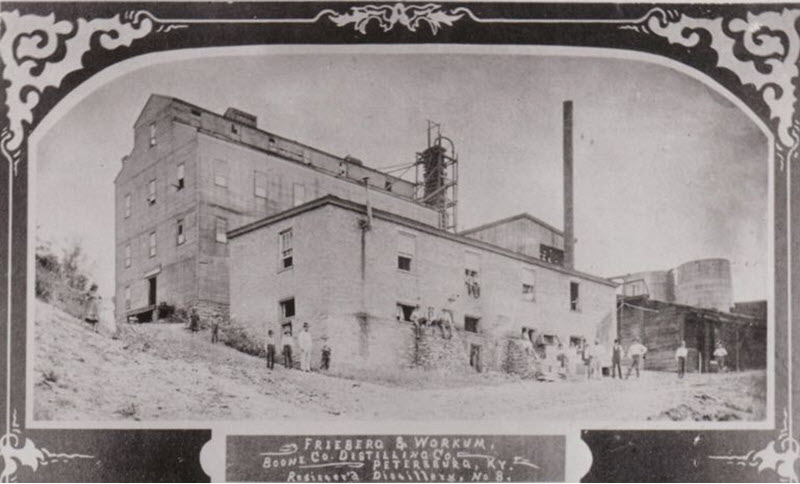 As the story goes, the business had its ups and downs and Synder ended up losing Petersburg Distillery in 1861. The company went on to be sold again in 1869 to Freiburg & Workum who then grew the business into the largest producer of whiskey in Kentucky by 1880. However, shortly thereafter, the railroad system arrived to the area and the riverboats stopped visiting Petersburg. Sadly, this led to a massive drop in sales and the distillery shut its doors in 1919.
Fast forward to 2015. Two Boone County area residents, Josh Quinn and Jack Wells, decided to get into the bourbon business. While doing their research, they stumbled on a wealth of information about their local area and its historical ties to the bourbon industry that had been long forgotten. Boone County's rich whiskey history led them to establish the Boone County Distilling Company. Today, bourbon is once again distilled and bottled in Boone County. What a beautiful thing.
To pay tribute to its roots, the brands ethos is "Made by Ghosts". This is a nod to the early pioneers who crafted spirits in Boone County more than 137 years ago. If you visit the distillery you will also see that the staff wear shirts with the word "Ghost" largely printed on the back. When asked about the shirts, the worker replied, "Someday, we will also be ghosts, too. You and I are just future ghosts. So technically speaking, even the bourbon you drink to day is made by ghosts."
Take a look at Boone County Distilling's logo. The "8" linking the words "Boone" and "County" in the reflect the original "Registered Distillery 8" designation for Petersburg Distillery. Since today that designation belongs to Four Roses, they still managed to pay tribute to their brand's heritage by incorporating the 8 within the logo.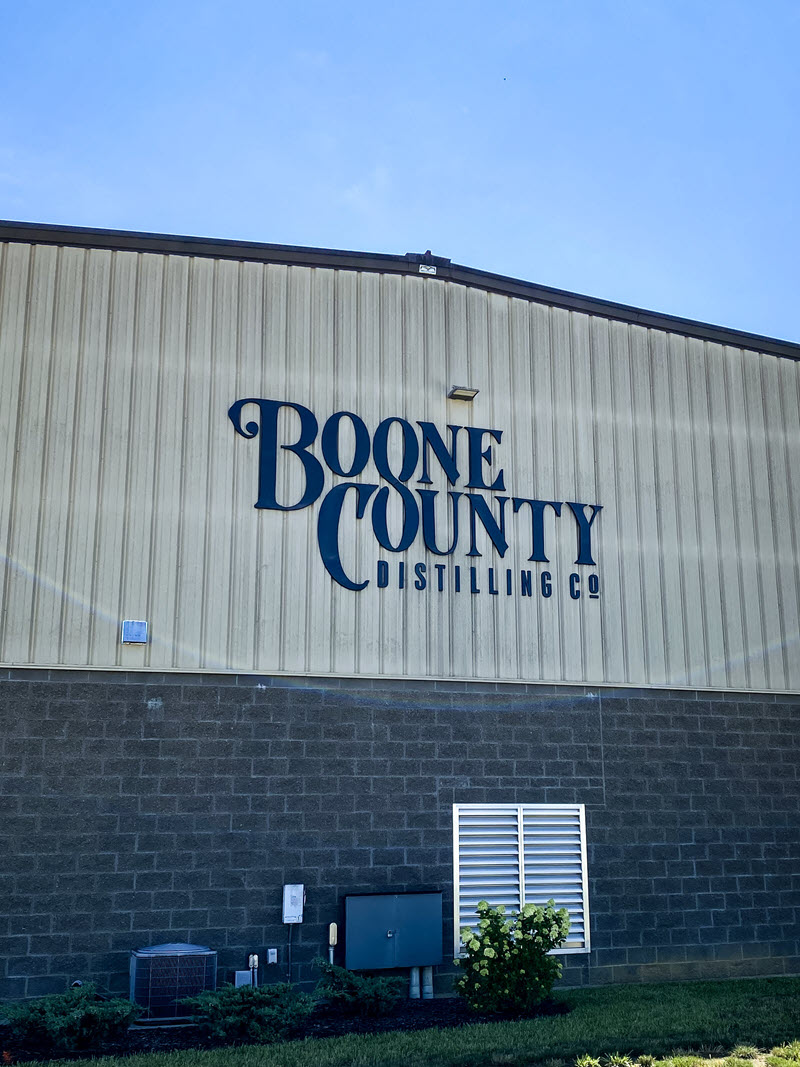 A couple of weeks ago we reported that some of our beloved Kentucky distilleries are starting to open their doors again. (Yeah!) We decided to take our own advice and do a tour and tasting at Boone County Distilling Co., who is part of the Kentucky Bourbon Trail Craft Tour.
Upon arriving, it was evident that we weren't going to be treated to the scenic beauty of like a Woodford Reserve or Maker's Mark type of distillery. Boone County Distilling Co. is located in an industrial park next to a FedEx hub. Since they are a new distillery we will give them a break, but we hope that one day they will move on to greener and more scenic pastures.
Once inside we decided to go on the "Grain to Glass Experience." On this tour we learned about the company's heritage, saw photos of the brand's pioneers, and even saw a bottle from the old Petersburg days.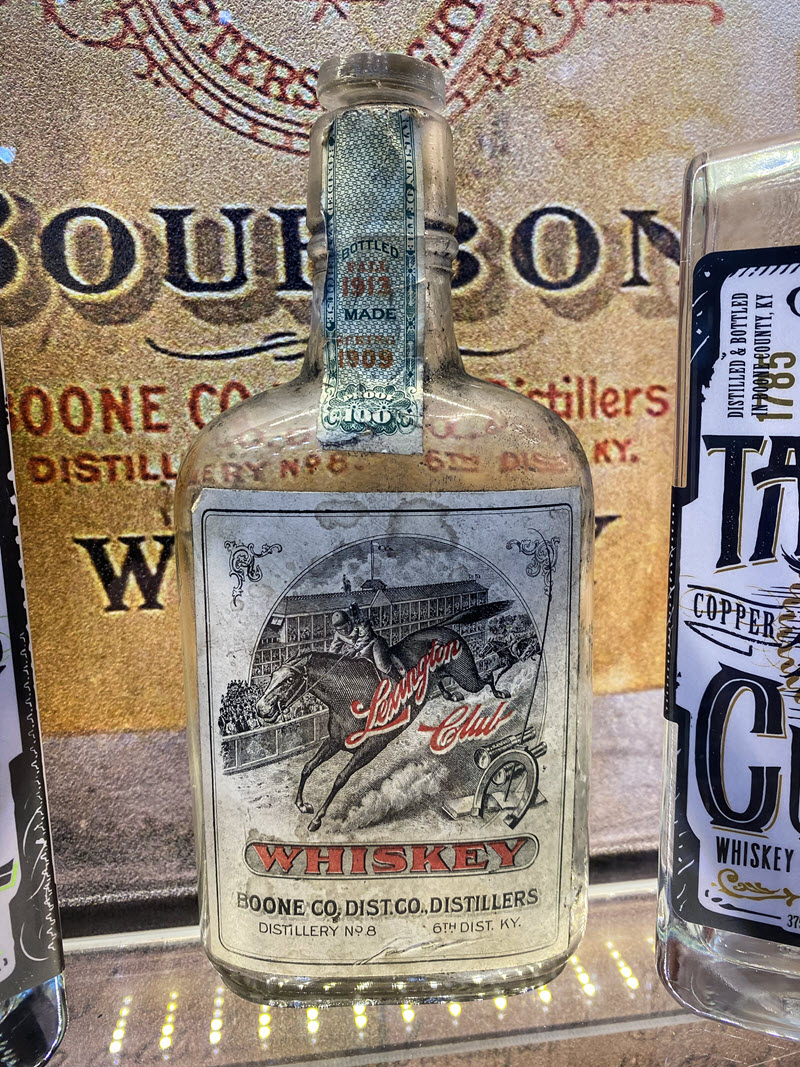 Next up on our tour we learned about the mash bill that is used in their small batch bourbon, which currently is 74% corn, 21% rye and 5% malted barley. After learning about the cooking process it was then onto distilling where we noticed another throwback to the company's past. The large copper still, crafted by the folks at Vendome Copper & Brass Works Inc., is lovingly been nicknamed "The Bear." It was discovered in diary entries from local Petersburg resident Lewis Loder that William Synder was known to have a actual pet bear. Naming the copper still "The Bear" is another way for Boone County Distilling to pay homage to their past. Bourbon and bears…the late 1800's definitely sound interesting, to say the least.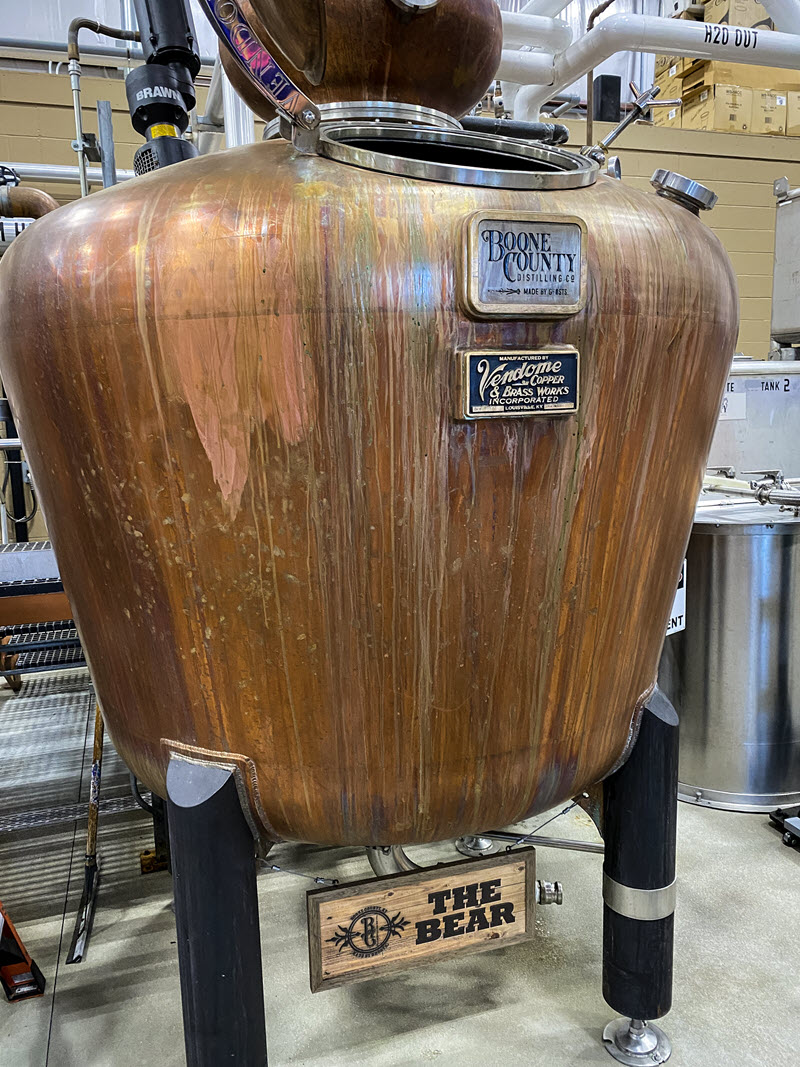 The 3,300 square foot rickhouse at the rear of the property houses over 800 barrels that are patiently aging. There is no better smell than a rickhouse on a summer day. Take a deep breath and you get those sweet smells of oak and the angels' share. Free business idea: Turn this scent into a candle. All bourbon lovers will snatch it up.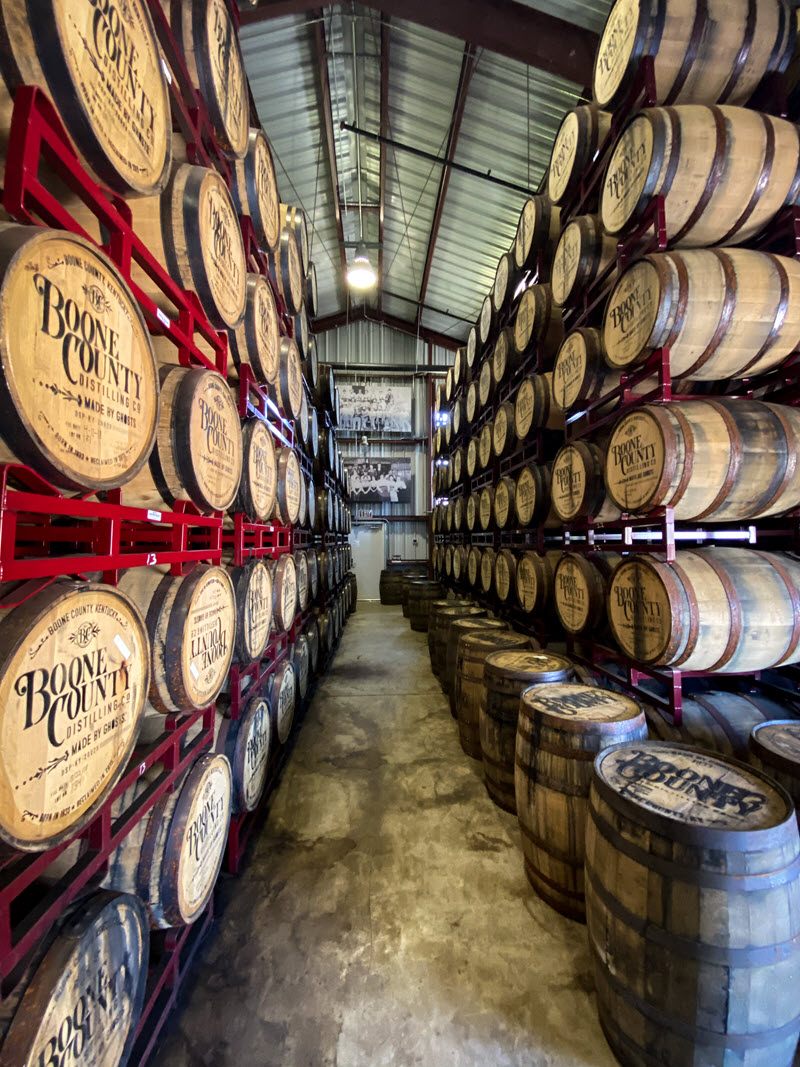 Our tour ended with a tasting of the brand's current lineup. We sampled some distillate. Distillate is clear because it hasn't yet gone into the barrel. If you've never tried distillate, do. You probably won't like it, but trying it will educate you as to how the charred oak barrels affect both the color and taste of bourbon. We also sampled Boone County's small batch bourbon, bourbon cream, two types of gin, and a rum. We were especially impressed with the Duppy Rum that is aged in used bourbon barrels. Delicious! We can't wait to craft some cocktails at home with it. The Duppy Rum is a currently a distillery gift shop item only, so be sure to pick one up after your tour. You won't be disappointed.
After our tour and tasting were complete, we arrived at the gift shop and we spotted Boone County's 6 Year Wheated Single Barrel Cask Strength Bourbon sitting on a shelf behind the counter. This was not included in the tasting and we wanted to know more. We learned that it was distilled in 2013 (we suspect at MGP) and then aged for 6 years. This single barrel release is limited to only 68 barrels. The mashbill consists of 45% wheat, 51% corn and 4% malted barley. After the maturation process, it is then non-chill filtered before entering the bottle at 120.7 proof/60.35% abv.
Special note to 90 proof exclusive drinkers: start trying higher proofs. There is so much flavor you are missing out on by shying away from higher proof bourbons. We recommend low proof enthusiasts try Boone County Distilling's 6 Year. It's sweet and drinks really smoothly. *steps down from soapbox*
Next, we visited the bar where we purchased a pour of the 6 Year (which came with a souveiner glass). If possible, we prefer to try before we buy a $100 bottle. (See tasting notes below.) We loved it so much we decided to take a bottle of it home along with the Duppy Rum. Again, both are available only at the distillery at this time, however, you can find the brand's 90.8 proof/45.4 abv. wheated bourbon release in stores.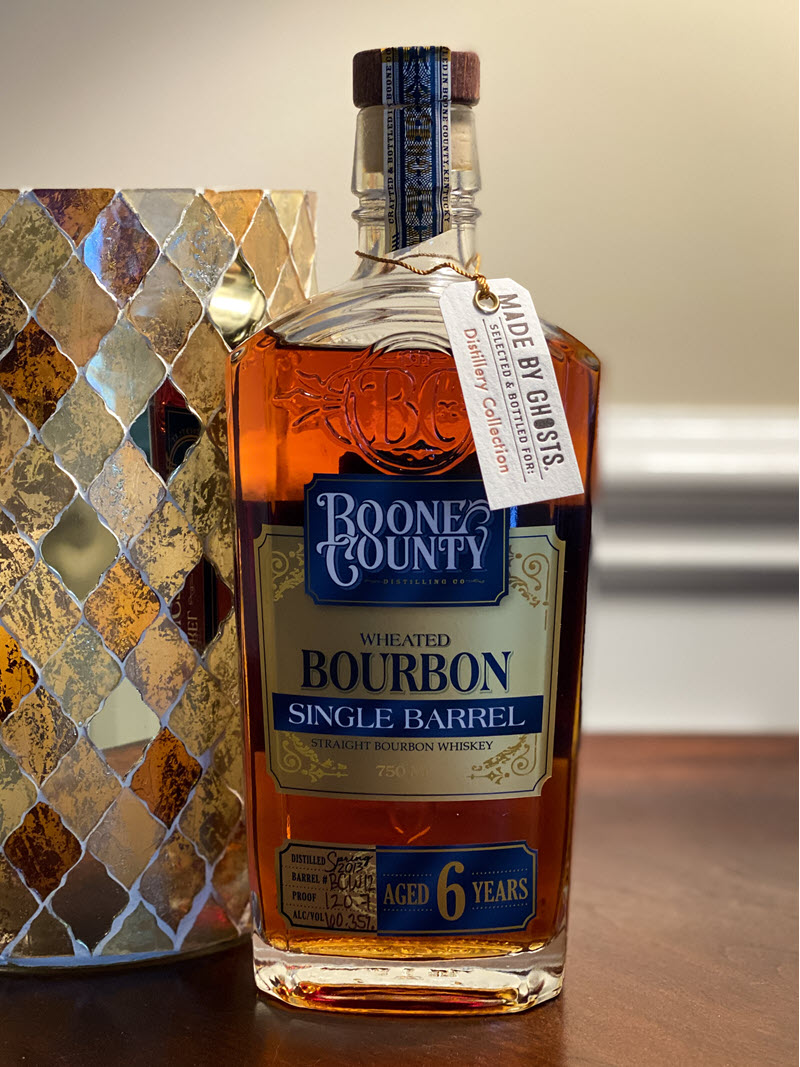 ---
TASTING NOTES: BCDC Wheated Single Barrel Bourbon – Cask Strength
Origin:
Indiana (Distilled) / Kentucky (Aged)
Style:
Straight bourbon
Mashbill:
51% Corn, 45% Wheat, 4% Malted Barley
Age:
6 years old
Proof:
120.7 / 60.35% ABV
Price: $100
Release: 2019
Availability: Distillery only
More info: Boone County Distilling Co.
Appearance / Color
Dark amber
Nose / Aroma / Smell
Aged oak, vanilla, sugar cookie
Flavor / Taste / Palate
The flavor profile is sweet and rich, but with notes of toasted oak, caramel, and roasted peaches.
Finish
The finish is long, sweet and buttery.
---
It was a great visit to the Boone County Distilling Company, where we learned some history, met some ghosts both past and present and enjoyed some delicious Kentucky Bourbon. Next time you are in Northern Kentucky or the Cincinnati area, be sure to stop in for a tour, talk to a ghost or two, and bring home a couple of bottles to enjoy with family and friends. Cheers!
---
Boone County Distilling Co
,
Boone County Distilling Company
,
bourbon history
,
Cask Strength
,
Covid-19
,
Distillery Tour
,
Duppy Rum
,
Freiburg & Workum
,
History
,
J.C. Jenkins
,
Jack Wells
,
James Gaff
,
John Tanner
,
Josh Quinn
,
Kentucky
,
Kentucky Bourbon Trail Craft Tour
,
Kentucky history
,
Larry Ebersold
,
Lewis Loder
,
Made By Ghosts
,
MGP
,
Petersburg Distillery
,
Petersburg Distilling
,
Petersburg Kentucky
,
Single Barrel
,
Tasting Notes
,
Wheated Bourbon
,
William Appleton
,
William Snyder
---
You might also like
---