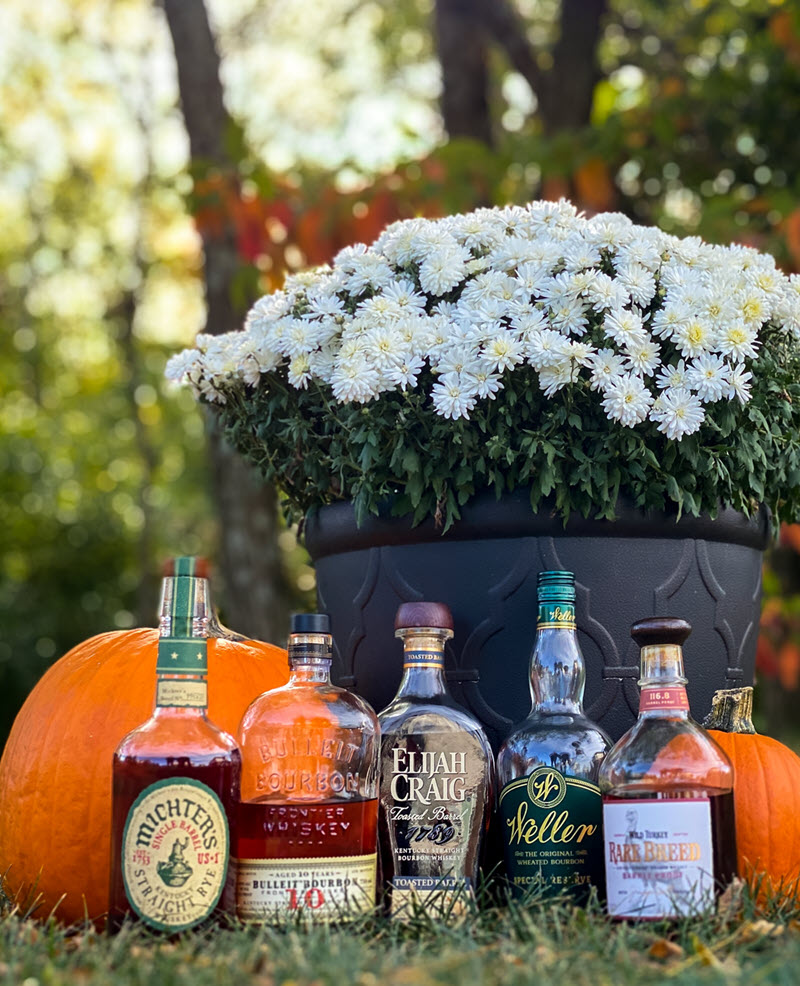 Fall is here and Thanksgiving is just around the corner. What better way to enjoy the season than to sip on some delicious Kentucky bourbon? Or perhaps a great rye? We have compiled a list of our favorite bourbons under $50 for you to enjoy.
Whether you are celebrating Thanksgiving with family and friends in person or via Zoom, any of these bourbons will enhance your celebration and not break the bank.
Check out our favorites under $50 below!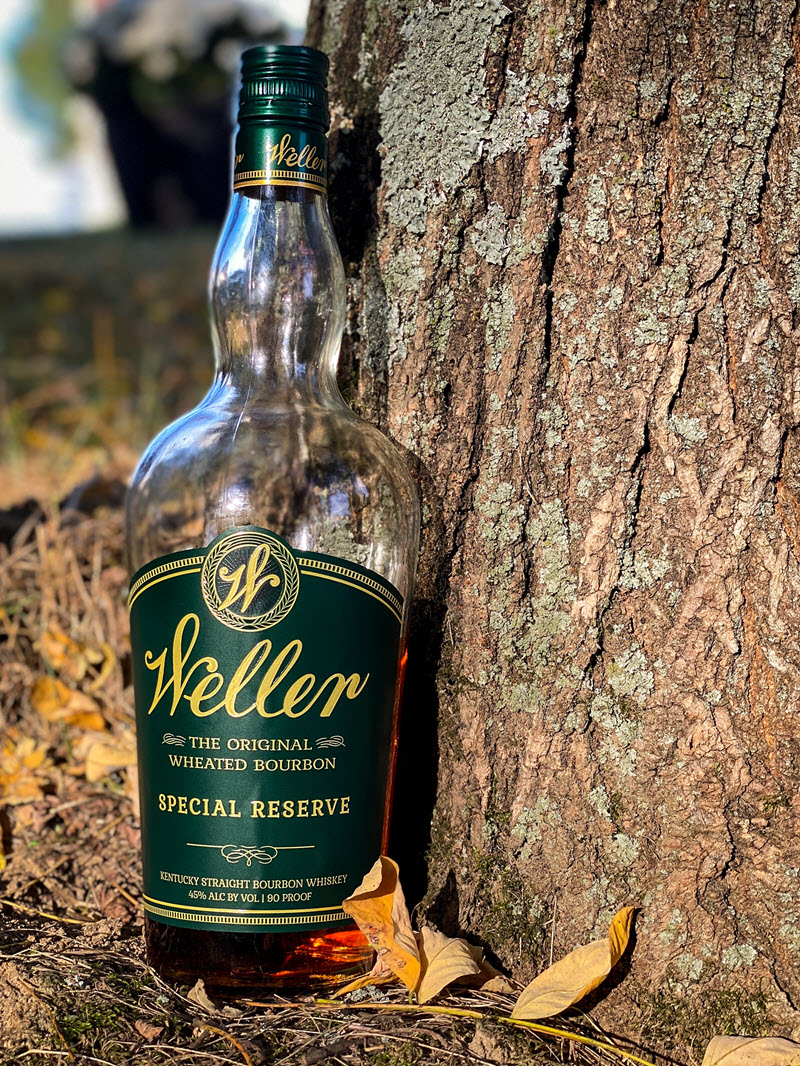 Weller Special Reserve Bourbon
This Bourbon is produced at the Buffalo Trace Distillery located in Frankfort, Kentucky under the Weller label. What makes this bourbon unique, is that the wheat is substituted as the secondary grain, instead of the rye grain in its mash bill. This results in a soft, smooth taste that make this bourbon great for sipping or making your favorite cocktail.
Price around a $30, this is a fantastic bourbon to add to your collection. And if you're just getting into bourbon, we feel that the Weller line up is the perfect place to start your own brown water journey.

Origin:
Kentucky
Style:
Straight bourbon – Wheated mash bill
Age:
No age statement (NAS)
Proof:
90 / 45% ABV
Price: $35
More info: W.L. Weller Special Reserve
Appearance / Color
Burnt Orange
Nose / Aroma / Smell
Caramel, honey, and vanilla.
Flavor / Taste / Palate
This is a sweet & smooth sipper. Notes of soft caramel and vanilla.
Finish
Sweet with a subtle hint of oak and warm spice.
---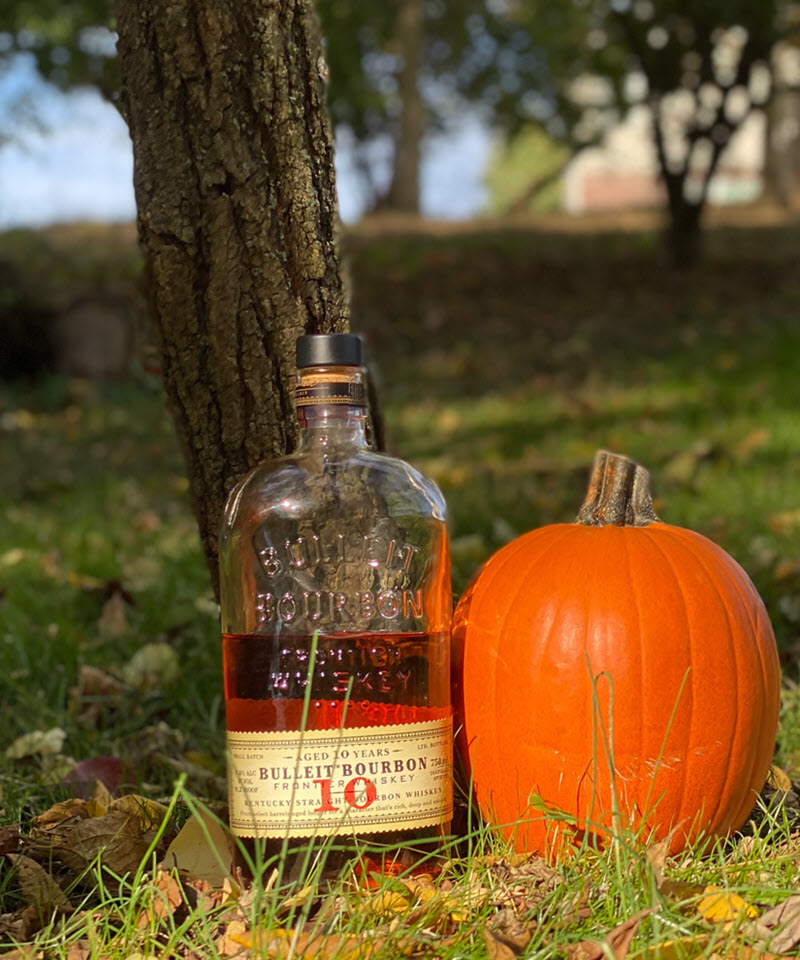 Bulleit Bourbon 10 Year Old
Bulleit's 10 year bourbon has been crafted with a mash bill consisting of 68 percent corn, 28 percent rye, and 4 percent malted barley. This is the same mash bill as the standard orange label Bulleit that you know and love. The big difference for this release is that these sleep a little longer in the rick house, set to patiently age for a minimum of 10 years before entering its striking bottle at 91.2 proof.
With the additional age, the rye spice has mellowed and delivers a smooth oak flavor making this is a fantastic sipper.
On a side note, be sure to save and repurpose your empty bottle as it makes the perfect water bottle when entertaining dinner guests.

Origin:
Kentucky
Style:
Straight Bourbon
Age:
10 Year
Proof:
91.2 / 45.6% ABV
Price: $40
More info: Bulleit Bourbon 10 Year
Appearance / Color
Deep russet
Nose / Aroma / Smell
Oak, Sweet caramel, vanilla, and a hint of citrus.
Flavor / Taste / Palate
Gentle sipper with notes of spice, oak, and cherry with the slightest hint of leather.
Finish
Dark fruit and spice that quickly turns to a lingering oak & smokey flavor.
---
---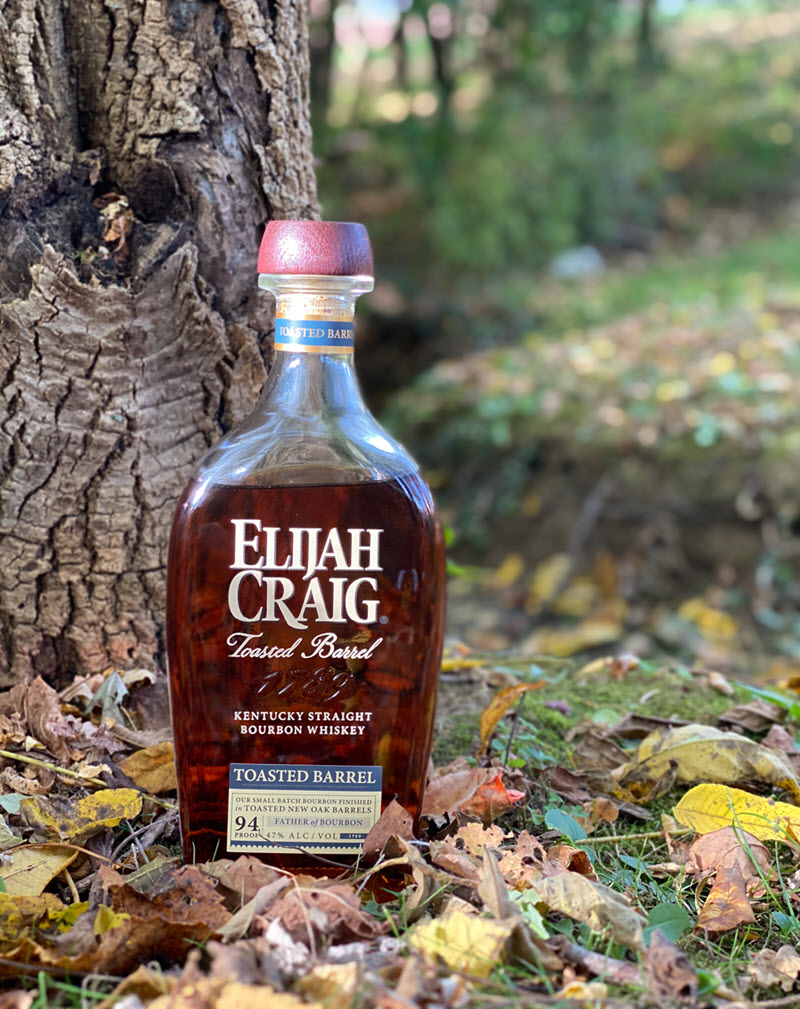 Elijah Craig Toasted Barrel Bourbon
Elijah Craig is credited by some as pioneering the process for Kentucky bourbon back in 1789. He is also credited with being the first to put his distillate into charred oak barrels, one of the key requirements for a whiskey to be classified as bourbon.
Today, Elijah Craig continues to innovate and has partnered with Independent Stave Company (ISC) and has released Elijah Craig Toasted Barrel back in September of 2020.
This ongoing release takes the original Elijah Craig Small Batch Bourbon to new heights. After the bourbon comes to maturation it's then finished in a second, custom toasted new oak barrel that was crafted with 18 month air dried oak, where it's left to develop even more dark sugars & sweet oak flavor delivering a striking balance of smokiness an sweetness after months of finishing.
We feel that this is the perfect whiskey to sip by the campfire. Maybe it's the "liquid smores" notes we get, but this new release from Elijah Craig hits the mark for us this fall!

Origin:
Kentucky
Style:
Finished Whiskey
Age:
No age statement (NAS)
Proof:
94 / 47% ABV
Price: $50
More info: Elijah Craig Toasted Barrel
Appearance / Color
Dark Amber
Nose / Aroma / Smell
Rich caramel, marshmallows, vanilla, and baking spices.
Flavor / Taste / Palate
Graham cracker, sweet caramel, vanilla, and a hint chocolate. We are reminded of smores by the campfire.
Finish
Rye & baking spices followed by rich caramel and brown sugar sweetness.
---
---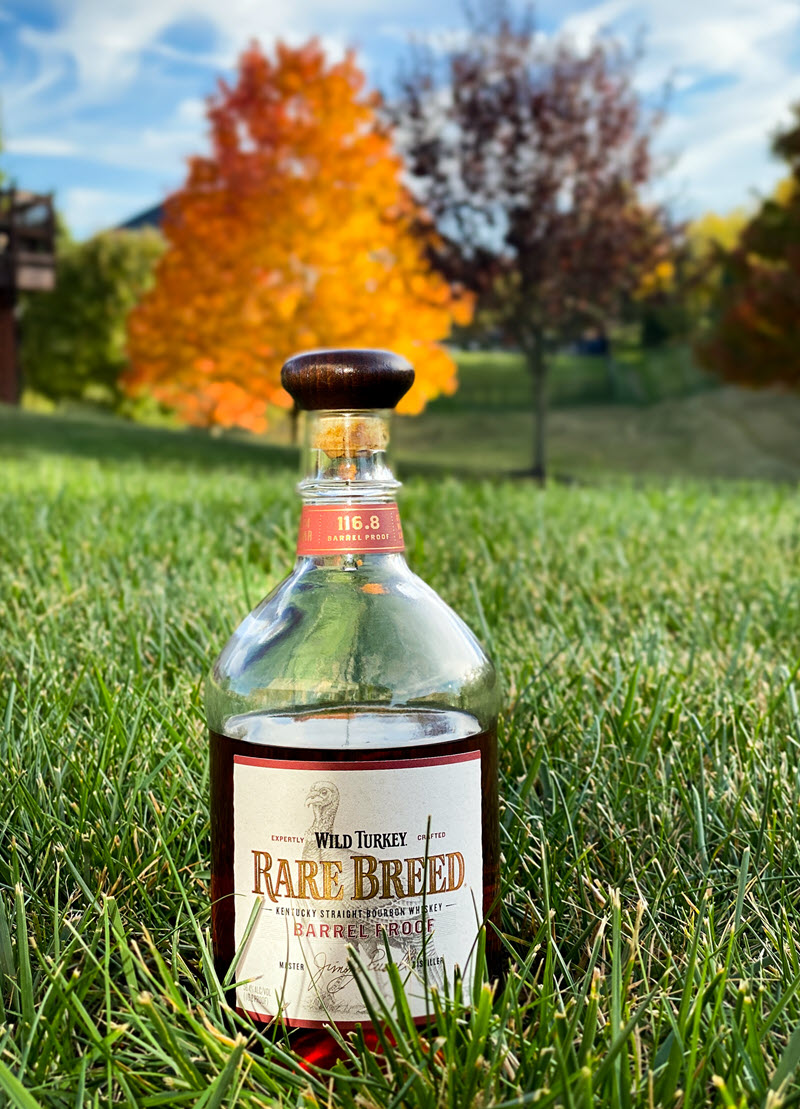 Wild Turkey Rare Breed Bourbon
First intorduced in 1991, the bold spirit of Wild Turkey has been captured in this barrel proof whiskey. The bottle and label may have changed over the years but the juice inside remains the same. Uncut with water, Rare Breed is an Kentucky straight bourbon that is remarkably smooth & complex and delivers tons of flavor.
We also want to point out that you shouldn't shy away from higher proof whiskeys… Afterall, we always say, proof is flavor and this one from Wild Turkey delivers!
Wild Turkey Rare Breed will always have a home on our shelves. Its also worth mentioning that in the bourbon community this ongoing release is one of the few accessible and somewhat affordable full proof bourbons you can always seemingly find on the store shelves, which is being coming increasingly rare these days due to bourbon's rise in propularity.
And if you happen to like this one, Wild Turkey has also since released a Barrel Proof Rye. If you have had either, be sure to let us know your thoughts in the comments below.

Appearance / Color
Dark Copper
Nose / Aroma / Smell
Spicy, peppery, oak
Flavor / Taste / Palate
Bold oak, spice, citrus, sweet tobacco
Finish
Explosion of dark fruit and spice that quickly turns to a lingering oak flavor.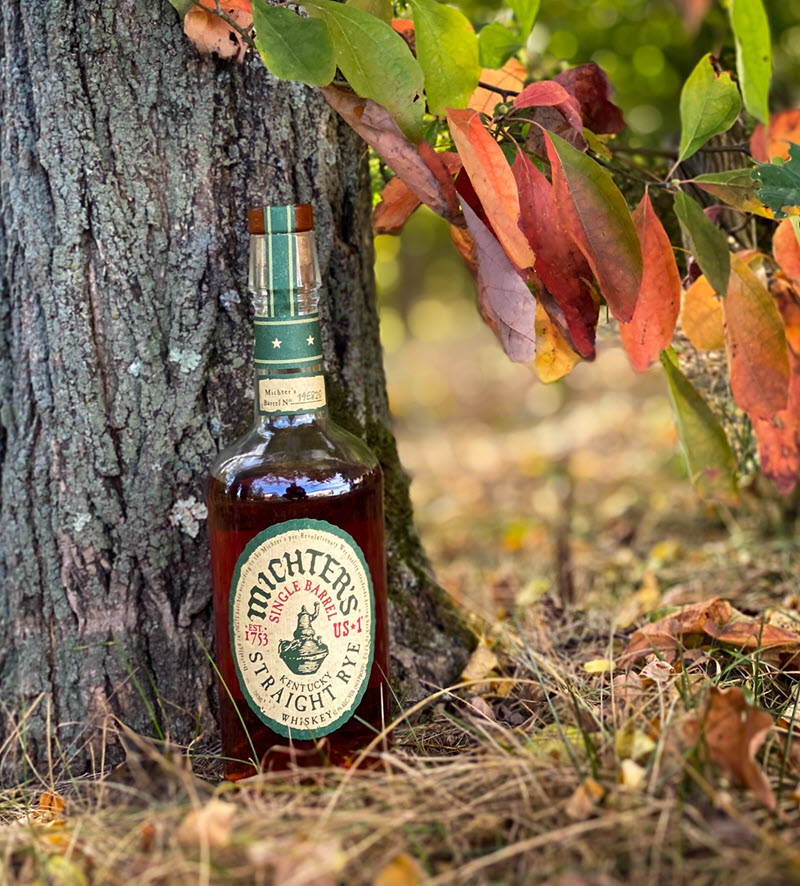 Michter's US-1 Kentucky Straight Rye
Yes, we know that this one is not a bourbon but it's so delicious we HAD to share it with our readers. The proof is approachable, and we are absolutely blown away at the amount of flavor & complexity this rye brings to the party.
Rye is officially America's oldest whiskey variety, and as with all of Michter's US1 expressions, they have been named to honor Michter's heritage harkening back to America's first whiskey company and consist of some of the finest single barrel and truly small batch whiskeys available on the market today. No Michter's US1 whiskey is ever released until Michter's tasting panel deems it ready.
Neat, on the rocks, or in your favorite cocktail we just adore this Michter's US-1 Kentucky Straight Rye!

Appearance / Color
Bright copper
Nose / Aroma / Smell
Sweet corn, citrus, vanilla, baking spice, leather
Flavor / Taste / Palate
Baking spice, citrus, creamy vanilla, butterscotch
Finish
Creamy, buttery, lingering, peppery, baking spice, hint of oak.
---
---
– Bonus –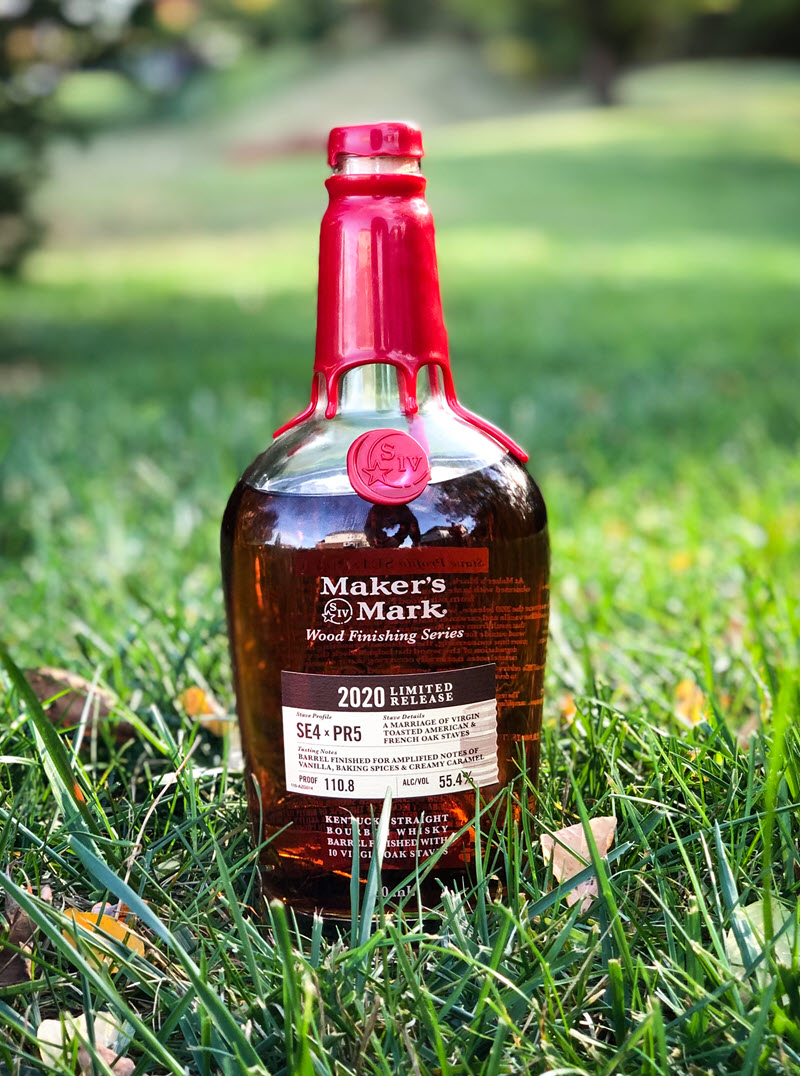 Makers Mark Wood Finishing Series SE4XPR5
While over the $50 price point, we couldn't forget about this limited release from Maker's Mark.
The 2020 Limited Release features stave Profile SE4 & PR5 and is Maker's Mark second ever nationally available limited release following 2019's popular RC6. This one starts off life as your traditional Makers Mark wheated bourbon and is crafted in batches of less than 1,000 gallons. Next, ten oak staves are introduced into used Makers Mark barrels, which are then refilled and returned to the warehouses to finish aging.
The first stave in the 2020 Limited Release, SE4, is made from Virgin French Oak, convection cooked at medium heat with a short toast period and responsible for much of the caramel flavor. The second stave, PR5, is made from Virgin American Oak and convection cooked at low heat very slowly over time to bring out vanilla. Both staves were aged outside for one year.
We picked up this delicous bottle while visiting the Makers Mark Distillery earlier this year. If you decide to make the drive to Loretto, Kentucky be sure to take a tour and sign up as a Makers Mark Ambassador.
Origin:
Kentucky
Style:
Straight Bourbon
Age:
No age statement (NAS)
Proof:
110.8 / 55.4% ABV
Price: $80
More info: Makers Mark SE4xPR5
Appearance / Color
Bronze
Nose / Aroma / Smell
Toffee, some oak, and cherry notes.
Flavor / Taste / Palate
Spiced vanilla, burnt caramel, sweet oak, baking spice
Finish
Carmel and vanilla that immediately delivers big notes of oak and leather
---
Barrel Proof
,
Bourbon
,
Bulleit Bourbon 10 Year
,
Elijah Craig Toasted Barrel
,
Finished Whiskey
,
Independent Stave Company
,
Kentucky Straight Bourbon Whiskey
,
Makers Mark
,
Makers Mark Wood Finishing Series SE4XPR5
,
Michter's US-1 Kentucky Straight Rye
,
Rye
,
Single Barrel
,
Thanksgiving
,
Top 5
,
Weller Special Reserve
,
Wild Turkey Rare Breed
---
You might also like
---