We at Kentucky Brown Water Society sincerely hope you and your loved ones are staying well and calm during these uncertain times. We hope these dark days will be behind us sooner rather than later. We decided to put together a fun project to entertain you. Bourbon and Easter candy pairings!
Fortunately, stores around us both have plentiful quantities of each. Cheers and enjoy!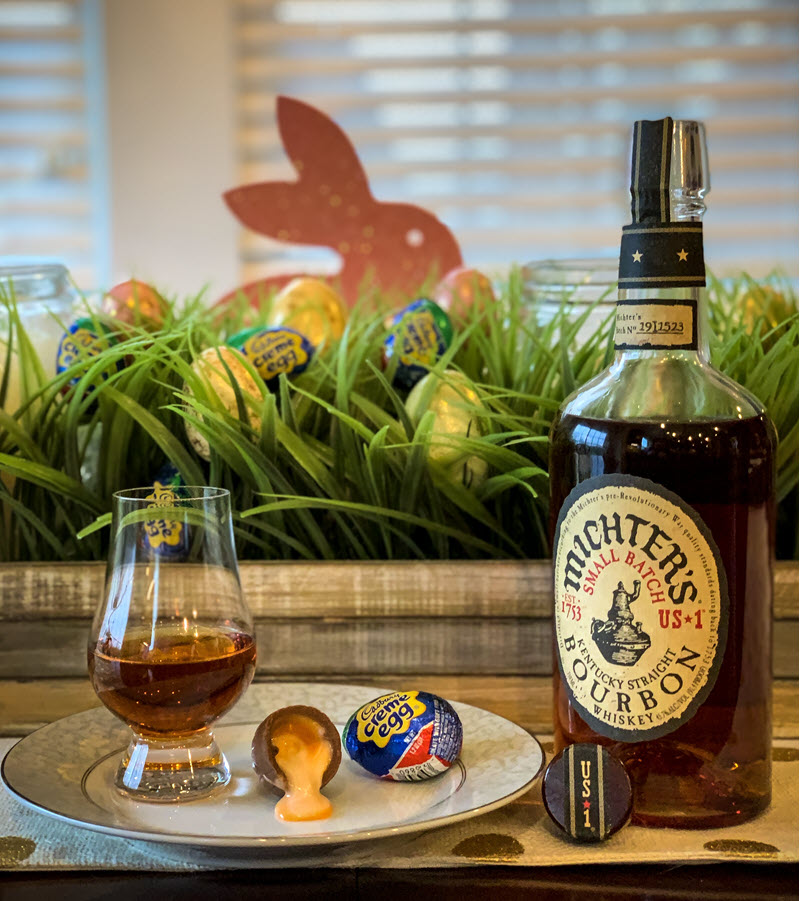 Michter's US 1 Small Batch Kentucky Straight Bourbon & Cadbury Creme Egg
Michter's was one of America's first whiskey distilleries and the Cadbury Creme Egg was the first Easter candy I reached for in my basket each year. Two classics. Two firsts.
The caramel and vanilla notes in the Michter's US 1 Small Batch bourbon are heightened when consumed alongside the Cadbury Creme Egg, with its chocolaty outside and sugary, creamy yolk center. The sugars from the bourbon's charred oak barrels and the creamy fondant from inside the Cadbury egg come together to create a flavor profile that is pure bliss.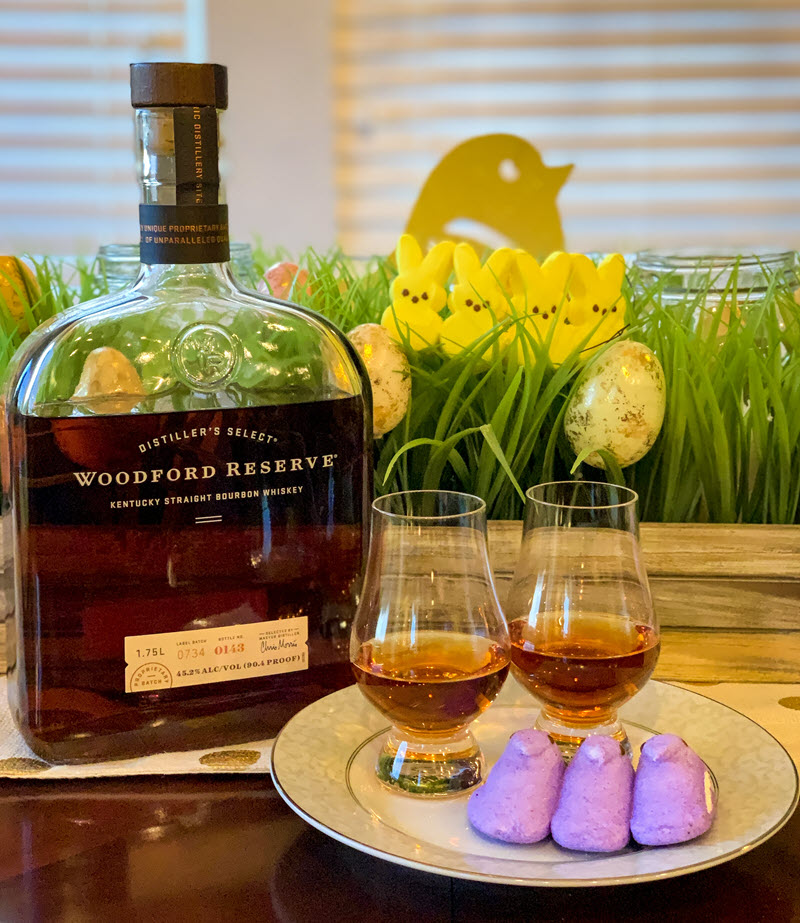 Woodford Reserve Kentucky Straight Bourbon Whiskey & Peeps Marshmallow
Peeps marshmallow candy was established in 1953. Although different iterations of Peeps are available throughout the year, (snowmen at Christmas, pumpkins and ghosts for Halloween) we long for the classic marshmallow Peep at Easter. It's childhood. It's friends. Peeps!
The name Peeps and the nostalgia have us contemplating friendship. As sharing your candy was a symbol of childhood camaraderie, sharing a pour of bourbon with a friend is a sign of affection and good will. When thinking about which bourbon to pair with our beloved Peeps, this gigantic 1.75 liter bottle of Woodford Reserve stood out. Why? Because this is a bottle you put out on a table at a party. Your friends, I mean peeps, pour from it all night and you talk about the good times, what's new and you solve the world's problems. It's a party bottle. It's a community bottle. It's the bottle you buy specifically to share with your peeps.
---
Bonus:
Pour yourself and your friends a glass of brown water. Now debate: Are Peeps better fresh or stale? If your instinct is fresh, then you never had that lone Peep sitting in your Easter basket.
---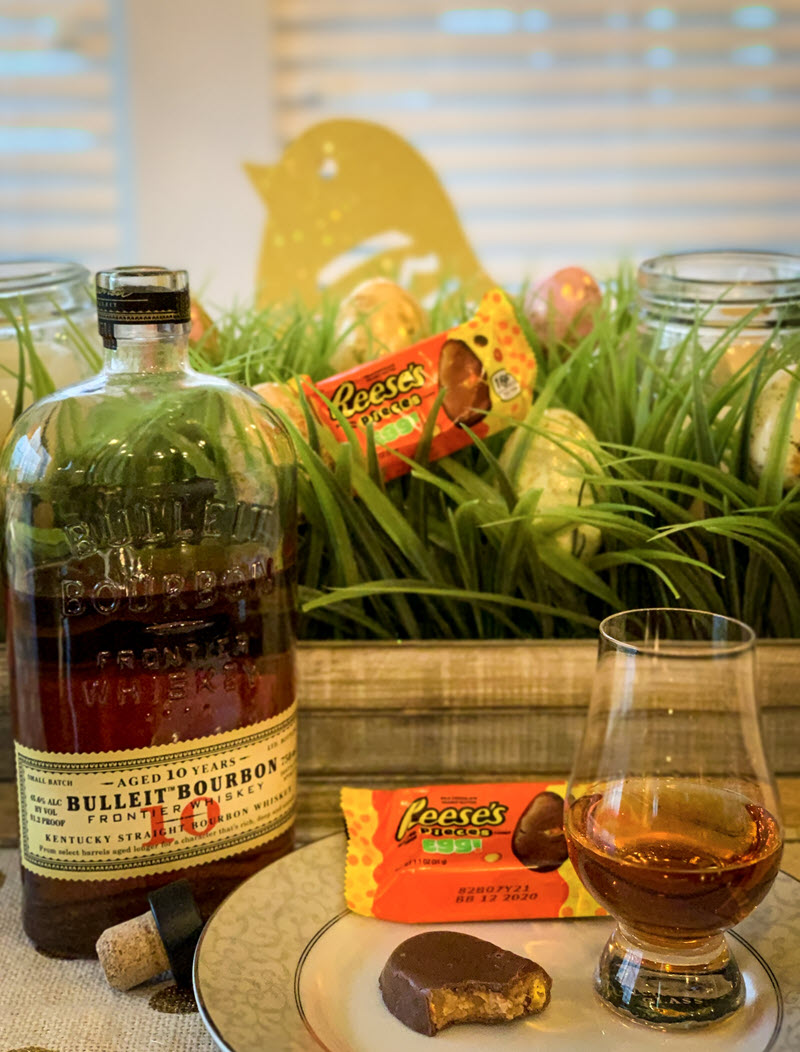 Bulleit Bourbon 10 Year Old & Reese's Pieces Egg
Because my inner 10 year old was excited to see a Reese's Pieces Egg, it feels right to pair it with Bulleit Bourbon 10 Year Old. Aging a bourbon for 10 years gives it a character that is rich and deep. Take a sip of Bulleit 10 Year and you get vanilla on the palate with a long, smoky finish. Take a bite of the Reese's Pieces Egg and the peanut butter is obviously at the forefront, but you also get a satisfying crunch from the addition of the Reese's Pieces candies. The smoky mature bourbon paired with this slightly crunchy, but still smooth, peanut butter treat is an adult's dream come true. Pro Tip: Smoke a cigar and enjoy this trifecta on your patio as the sun sets.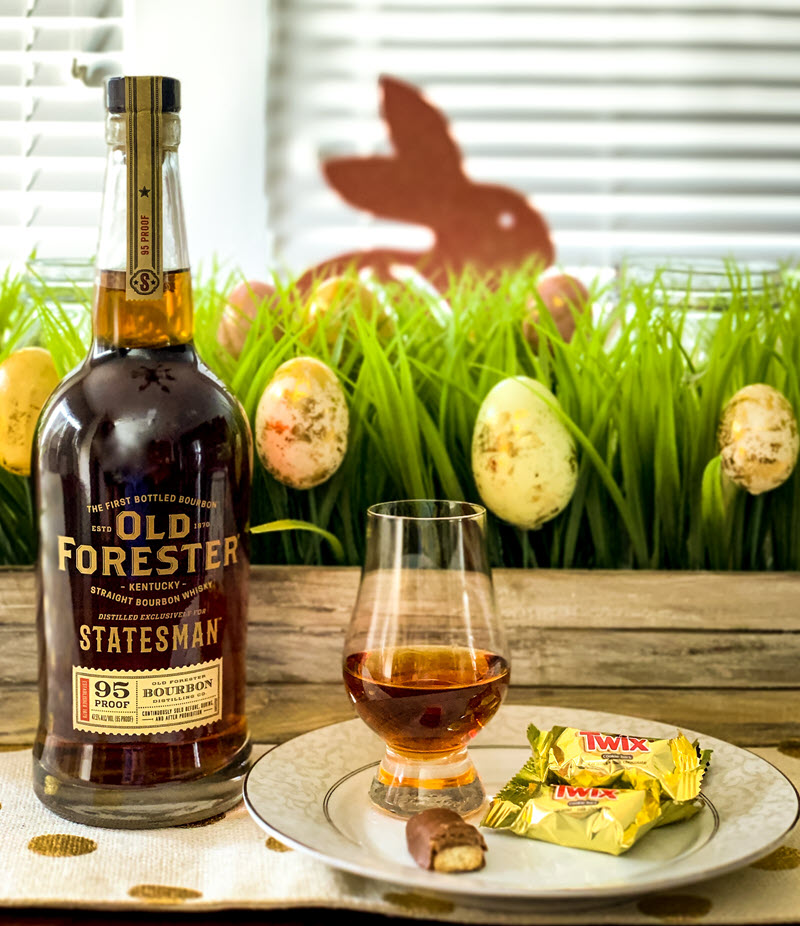 Old Forester Statesman Kentucky Straight Bourbon Whisky / Twix Caramel Milk Chocolate Cookie Bars
With its buttery cookie center, topped with caramel and coated with milk chocolate, Twix has been a popular candy since its debut in 1967. Pair it with Old Forester Statesman Kentucky straight bourbon whisky and you are in for a treat.
As the title suggests, this edition of Old Forester was created for the Kingsman: The Golden Circle, a spy comedy action movie that brings the London based Kingsman across the pond, where they meet the Statesman, their spy allies from the United States. The Statesman pose as a bourbon business located in Kentucky. (Quite the cover!)

Old Forester Statesman is aged in the warmest parts of their warehouse and the robust flavor reflects it. (That kick at the end makes you feel alive in a way that all bourbon drinkers appreciate.) This is why we paired it with Twix, we needed a bourbon that could match the cookie crunch. Two substantial products that are only better when you put them together.
---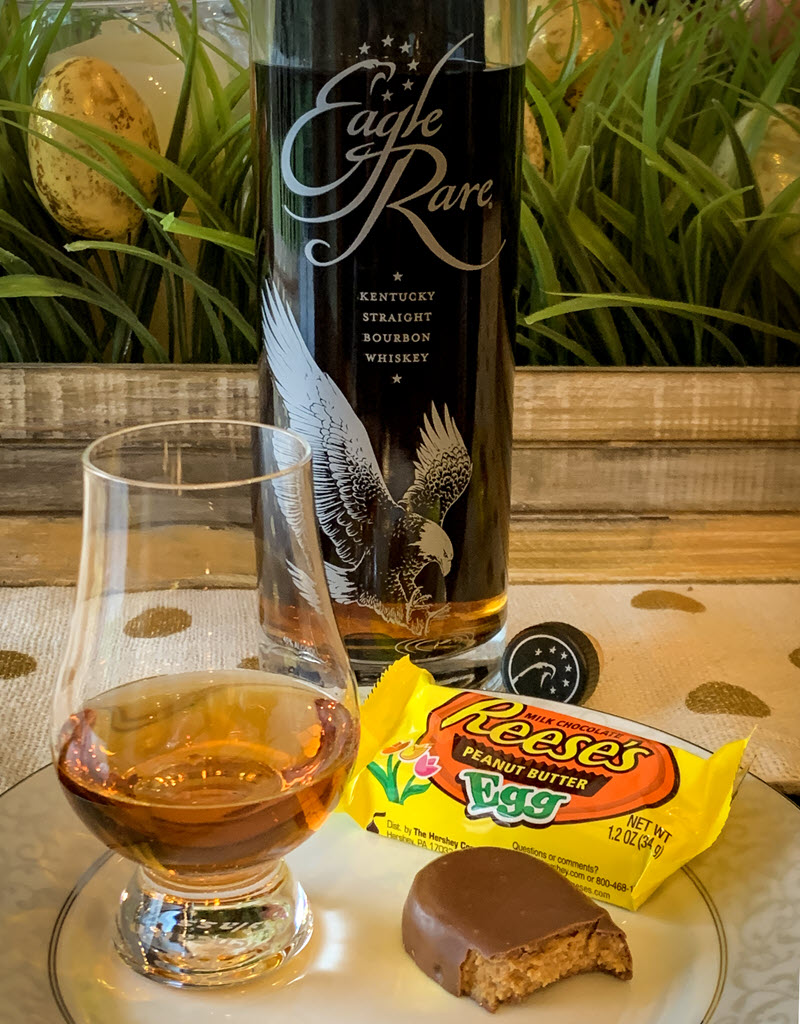 Eagle Rare & Reese's Peanut Butter Egg
Eagle Rare, made at Buffalo Trace Distillery, is a popular bourbon and a favorite of the masses. As far as Easter candy goes, the Reese's Peanut Butter Egg is also a favorite of the masses. We decided to pair two favorites from two different worlds. It went well. Very well.
With a 94 proof, Eagle Rare is smooth with just enough spice to dance on your tongue and open your tastebuds. Take a sip. Now take a bite of the Reese's egg. The peanut butter flavor comes forward even more thanks to the Eagle Rare. Chocolate and bourbon are oh-so smooth together. Now sip again. Take another bite. Pure nirvana.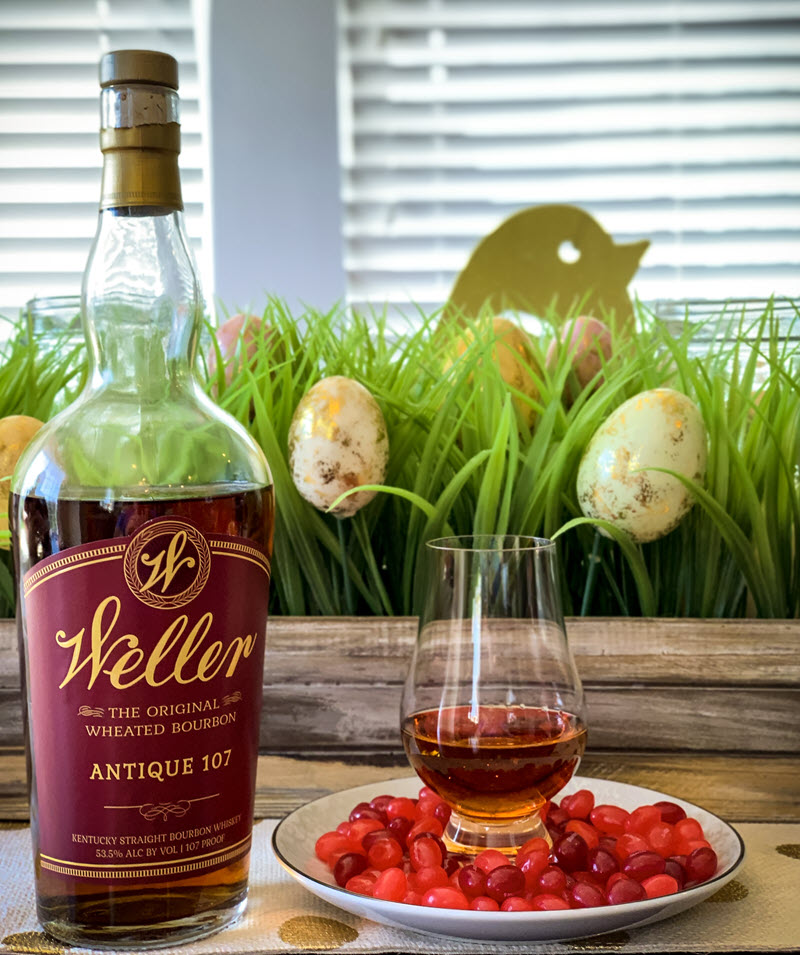 Weller Antique 107 & Starburst Fave Reds Jellybeans
W.L. Weller is credited by many to have been the first to produce Kentucky straight bourbon whiskey using wheat rather than rye in his mash bill. The 107 is bold and sweet. We like to pair it with Starburst Fave Reds jellybeans because two (or many) reds are better than one.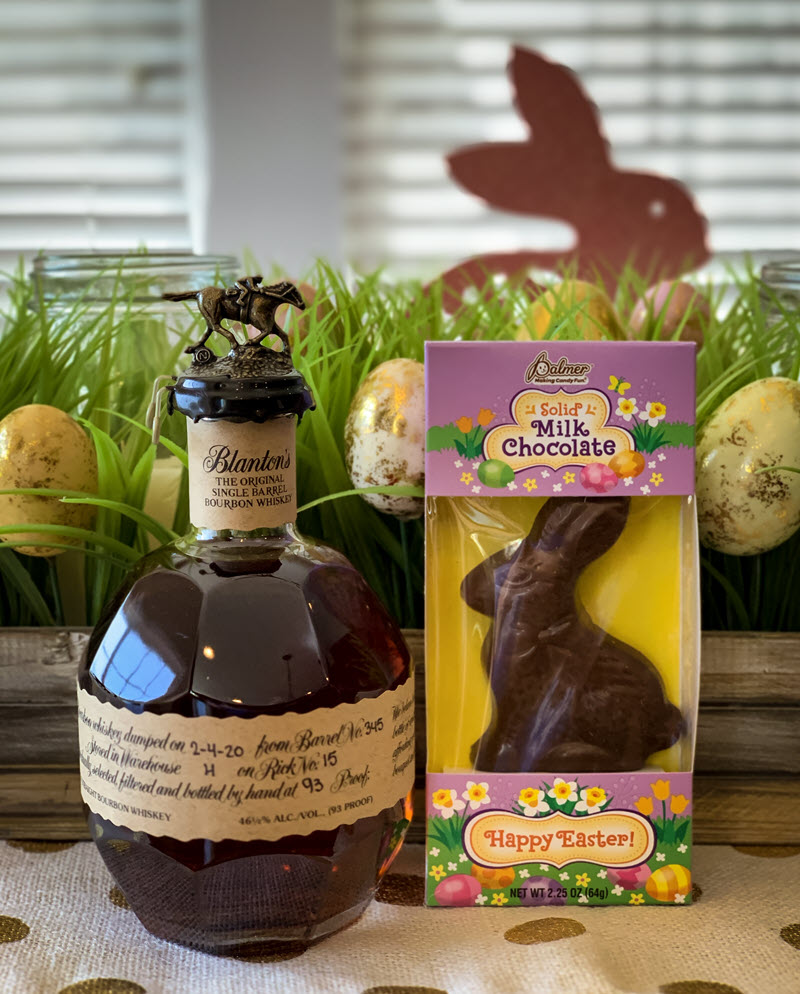 Blanton's Single Barrel Bourbon & Palmer Solid Milk Chocolate Bunny
Single Barrel Bourbon started with Blanton's in 1984. Nearing retirement, Master Distiller Elmer T. Lee was tasked with creating a bourbon of exceptionally high quality. Lee thought of the earlier days of his career in the late 1940s when he worked under Colonel Albert B. Blanton. Colonel Blanton was the president of the distillery until 1952. Mr. Lee remembered that when Colonel Blanton would entertain dignitaries and other important guests he would handpick "honey barrels" from the center cut of Warehouse H and have that bourbon bottled one barrel at a time. As a tribute to Colonel Blanton's old tradition, Elmer T. Lee decided to name this new bourbon "Blanton's Single Barrel".    
Elmer T. Lee introduced the world to Blanton's Single Barrel Bourbon a year before he retired.  In doing so, he revolutionized the industry by creating the "super premium" category of bourbon with the world's first single barrel bourbon.  This idea was somewhat radical at the time because it challenged the identity of what most folks thought bourbon to be.  Today, most distilleries offer one or more single barrel bottlings, but Blanton's was the first, and we still believe the finest, single barrel on the market.
We paired Blanton's with a solid milk chocolate bunny because they are the originals within their respective categories. Two originals that are made even better when paired together.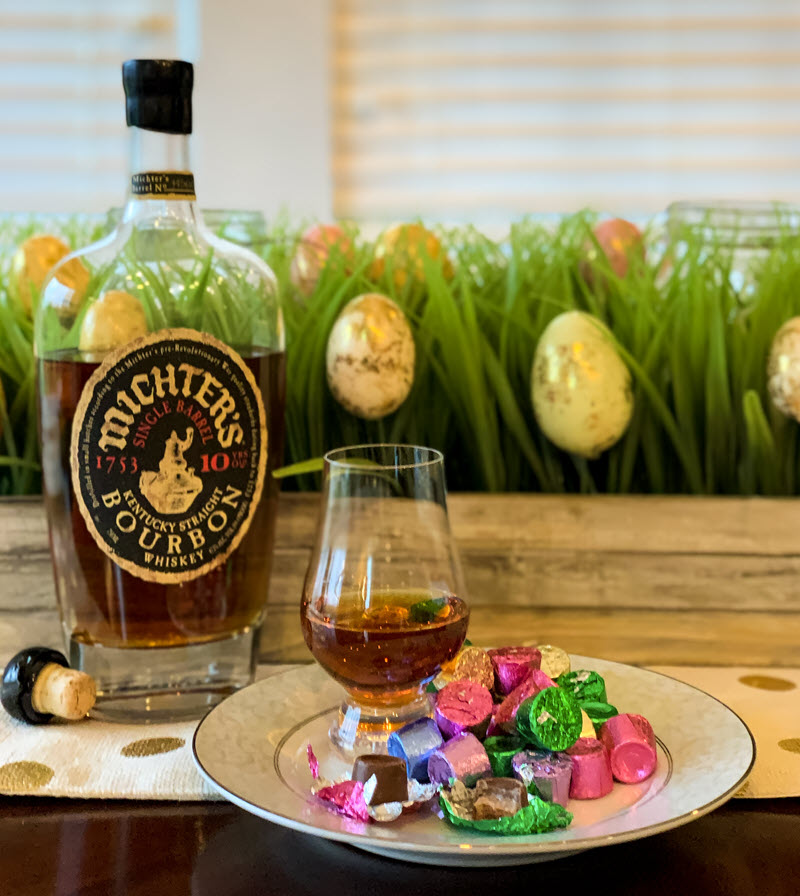 Michter's 10 Year Single Barrel Kentucky Straight Bourbon & Rolo
Rolo, with its shape representing that of an inverted tub, is a classic candy with a caramel center. The center of a Rolo is that of a solid caramel, rather than a runny one. Keeping these characteristics in mind, we chose Michter's 10 Year Single Barrel Kentucky Straight Bourbon to pair with Rolo candy.
This exceptional bourbon has tasting notes of big and bold dark toffee and caramel, charred oak, maple syrup, vanilla. With a bottling strength of 94.4 proof, it has flavor and spice that dances on your tongue, but one of the smoothest finishes you can experience at this proof. The flavor profile is evidence that a master with experience made this bourbon. The fact that it takes a decade to make it deserves reverence. The chewy caramel Rolo candies paired with the Michter's 10 Year Single Barrel beautifully compliment one another.
Rolo has been around since 1937. Michter's has existed since 1753. These two brands have stood the test of time for a reason; they are consistently superior to their competitors. Pair them together for a euphoric tasting experience and celebrate their greatness.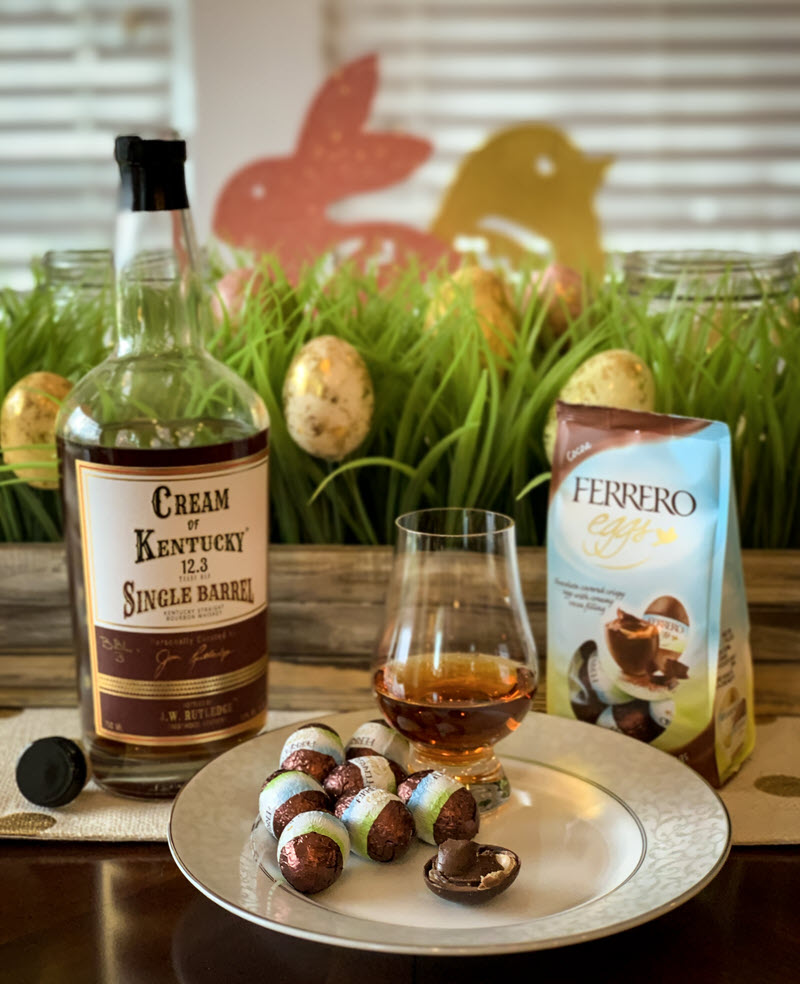 Cream of Kentucky 12.3 Year Old Single Barrel & Ferraro Cocoa Eggs
On the back of the Cream of Kentucky bottle it says "Double Rich," making this the perfect bourbon to pair with Ferrero Eggs, which are chocolate covered crispy eggs with a creamy cocoa filling.
Cream of Kentucky originally made its debut in 1888 by I. Trager & Co. of Cincinnati, Ohio. At the end of Prohibition, the brand was acquired by Schenley Distillery. Through the 1930's and 1940's Cream of Kentucky rose to the top as one of the leading bourbon brands. Norman Rockwell made much of the award winning artwork for the brand during this time. In December 2018, J.W. Rutledge proudly reintroduced Cream of Kentucky.
Bourbon enthusiasts are quite happy that Cream of Kentucky is being restored to its former glory. We invite you to ponder this brand's storied history while munching on a velvety delicious Ferrero Egg.
---
Blanton's
,
Bourbon
,
Cadbury
,
Candy
,
Covid-19
,
Cream of Kentucky
,
Eagle Rare
,
Easter
,
Ferraro
,
JW Rutledge Distillery
,
Michter's
,
Old Forester
,
Pairings
,
Palmer
,
Peeps
,
Reese's
,
Rolo
,
Starburst
,
Tasting
,
Twix
,
Weller
,
Woodford Reserve
---
You might also like
---