Bardstown Tourism Announce 2023 Bardstown Collection, Showcasing The Spirit Of The Bourbon Capital Of The World.
Bardstown is home to more aging bourbon barrels than there are residents. Authentic bourbon culture draws visitors from all over the World. In April 2023, six of this destination's renowned distilleries will join to release a one-of-a-kind bourbon series — the Bardstown Collection.
This will be the Collection's second year producing some of the most premium, hand-selected bourbons in the world and will be exclusively available on-site at all participating distilleries.
Beyond the liquid, the Collection will tell the story of Bardstown through each glass of these rare bourbons, the perfect narrative for this small town nestled in the picturesque rolling hills of the Bluegrass State.
---
---
Bardstown's rickhouses dot the local landscape, the smell of sweet bourbon mash fills the air, accompanied by the sound of barrels rolling from their resting places to be shipped all over the world. You can truly sense it – the presence of the liquid amber responsible for Bardstown's rich bourbon culture and heritage only found in the bourbon Capital of the World, — a bourbon connoisseur's paradise.
Each Distillery to Release Exclusive Bourbon in Collaborative Bottle with Commemorative Packaging.
"The heart of bourbon lives in Bardstown, Kentucky, and the Bardstown Collection is the perfect way to tell the story of the legends, the bourbon pioneers, the modern-day innovators, and the town that truly bonds them together." said Samantha Brady, Executive Director of Bardstown Tourism.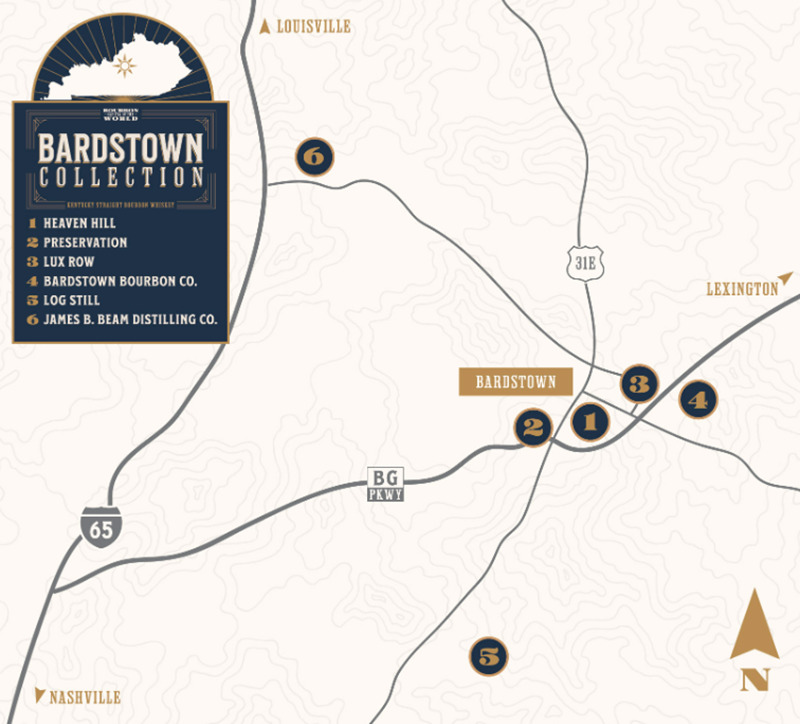 The 2023 Bardstown Collection distilleries include:
Bardstown Bourbon Company: Beautifully situated on 100 acres of working farmland, Bardstown Bourbon Company, opened in 2016, offering a Napa-style experience in the heart of bourbon country.
Heaven Hill Distillery: As America's largest independent and family-owned producer of distilled spirits, Heaven Hill's massive inventory exceeds 1.5 million barrels.
James B. Beam Distilling Co.: The James B. Beam Distilling Co. celebrates more than two centuries of bourbon legacy from the First Family of Bourbon. Producers of Jim Beam, the world's No. 1 selling bourbon to innovations from their new Fred B. Noe Distillery, they bring family heritage and the future of American whiskey together.
Log Still Distillery: Log Still Distillery boasts a 300+ acre, family-owned campus, where you can enjoy Monk's Road premium Bourbons and Gins in the Tasting Room or book a tour of the recently opened state-of-the-art distillery.
Lux Row Distillers: One of the newest destinations on the Kentucky Bourbon Trail, Lux Row Distillers is situated on a 90-acre campus, minutes from the center of Bardstown, and offers a behind-the-scenes look at the bourbon-making process in its recently expanded distillery.
Preservation Distillery + Farm: A hidden Bardstown treasure, Preservation Distillery is the first and only 100% pot-distilled producer in Nelson County, creating hand selected, rare barrels of intensely flavored whiskey.
"A collaboration like this is unheard of in the bourbon industry," said Conor O'Driscoll, Master Distiller at Heaven Hill Distillery. "We are so pleased to be a part of the collaboration and camaraderie between so many Bardstown distilleries."
Each participating distillery will utilize three barrels for these special bottles in the Bardstown Collection. An extremely limited Collection, and a desirable exclusive for bourbon aficionados and collectors.
"We couldn't be more excited to join Bardstown Collection Bourbon for a second year in a row. This year, our limited-edition features Bourbons from 10, 11 & 12 millionth milestone barrels filled at James B. Beam Distilling Co., that have been left untouched for years until we found an opportunity worthy of using them. The result is a well-balanced and intricate bourbon. The Bardstown Collection is more than a delicious bourbon; it's a celebration of the town's history and camaraderie. It's this fellowship of the folks living in Bardstown that kept Bourbon alive during the toughest times. They helped solve problems for the industry and assisted the community. It's been such a strong part of my own family's history and such a robust component of bourbon's history – we're excited to celebrate with this new release!" – Freddie Noe, 8th Generation Master Distillery of James B. Beam Distillery.
This will be a release you don't want to miss!!
Watch as Freddie Noe describes using the 10th, 11th, and 12th millionth milestone barrels for this year's Bardstown Collection.
Get your ticket and secure your spot to taste NOW before it's too late!https://t.co/BepyH5cYYO pic.twitter.com/aY8jDcL77m

— Bardstown, KY (@visitbardstown) April 7, 2023
Each distiller has selected a premium product that represents their company's best bourbon. Their bourbon will then be bottled in custom packaging under the cohesive brand name "Bardstown Collection" displaying their own distillery's secondary label signifying the six different editions of the collection.
Every bottle is then housed in a custom box that celebrates the community and history of Bardstown. The shared bottle design features iconic images from Bardstown, such as the historic My Old Kentucky Home. Gold-embossed blue boxes with ornate design and includes a colorful booklet that highlights distillery experiences, history, and the unique diversity of each participating distillery.
"Lux Row is proud to be the newest member of the Bardstown Bourbon Collection. For our first year, we are offering three single barrels, which are over six years old and bottled at 129 proof. These barrels feature our low rye bourbon recipe, my favorite recipe here at Lux Row. Since we're not blending these single barrels, you can expect different flavor notes from each, but in general, our low rye recipe plays to the sweetness of the corn, so expect some vanilla and caramel notes, with a slight spice and a little dry fruit on the finish. Lux Row has been an active member of this community for several years now, and entering the collection lays claim to our roots here in the Bourbon Capital of the World." Said John Rempe, Master Distiller at Lux Row Distillers.
The Bardstown Collection will be kicked off with a V.I.P. release party on Wednesday, April 12th hosted at Scout and Scholar Brewery in downtown Bardstown. The Bardstown Collection will then be formally released Thursday, April 13, and Friday, April 14, with 6 staggered releases from all participating distilleries spread across two days – 3 distilleries a day. Each distillery has their own limited quantities of bottles, and not everyone is guaranteed an entire set.
Release Schedule is as follows:
Thursday, April 13th
9am – Heaven Hill Distillery
12pm – Log Still Distillery
3pm – James B. Beam
Friday, April 14th
9am – Lux Row Distillers
12pm – Bardstown Bourbon Company
3pm – Preservation Distillery
Adding a twist this year, there will be 4 additional opportunities to buy the set throughout the coming months. Powered by Mint Julep Transportation, consumers will be given the opportunity to purchase tickets once a month, continuing through July 2023.
With these tickets, you gain access to one-of-a-kind Bardstown Collection experience. The tickets include a 2-day adventure in the Bourbon Capital of the World, traveling through all 6 distilleries involved in the collection. Each distillery has created an exclusive, immersive experience to tell the story of Bardstown through the liquid. Every stop includes a tasting of the 2023 iconic Bardstown Collection and a one-time opportunity to buy the full set after the initial release.
---
---
Additionally, a donation from the bottle sales will be given to Nelson County nonprofit organizations throughout the coming year with a focus on educating the next generation of bourbon distillers and enthusiasts. Donations will be made on behalf of the Bardstown Collection to the Oscar Getz Whiskey Museum and an assortment of Kentucky colleges to put a scholarship in place just for Nelson County residents.
"An important responsibility of this preeminent bourbon community is to ensure the longevity of the Bardstown distilling tradition. Through this donation, we will provide educational opportunities to the next generation of whiskey makers. I'm so proud of the charitable efforts of our team." Said Dan Callaway, Vice President of Product Development at Bardstown Bourbon Company.
"This collaboration is a representation of the incredible bourbon that Bardstown is built on," said Lynne Dant, Chief Operating Officer and Distiller of Log Still Distillery. "We are honored to join the Bardstown Collection in creating a one-of-a-kind bourbon that directly impacts our community and raises the standard of the industry."
The Palatella Family, owners of Preservation Distillery added, "Our family has loved being a part of the Kentucky Bourbon community for many decades. We're part of the community. We're honored to join our fellow bourbon distillers in Bardstown as we come together for an incredible cause — and great bourbon."
For more information on additional opportunities to purchase the Bardstown Collection set, please visit bardstowncollection.com.
About Bardstown, Kentucky:
Located in the heart of the Bluegrass State, Bardstown offers the ultimate bourbon getaway. With 11 unique distillery experiences within 16 miles of court square, all your bourbon dreams can come true here in Bardstown, the Bourbon Capital of The World. Bourbon not your thing? Not to worry! Come see us for our unrivaled place in American history, instead. With an atmosphere that seems to have magically leapt from the paintings of Norman Rockwell and the pages of Mark Twain, see for yourself why Bardstown was declared The Most Beautiful Small Town in America by Rand McNally and USA Today. For more information, visit visitbardstown.com.
Disclaimer: I use affiliate links, which means that if you make a purchase, I may get a small commission at no cost to you.

---
Bardstown
,
Bardstown Bourbon Company
,
Bardstown Collection
,
Bardstown Tourism
,
Bottle Releases
,
Conor O'Driscoll
,
Dan Callaway
,
DSP-KY-20037
,
DSP-KY-20040
,
DSP-KY-20044
,
DSP-KY-230
,
DSP-KY-31
,
DSP-KY-47
,
Freddie Noe
,
Heaven Hill Distillery
,
James B Beam Distilling Co
,
John Rempe
,
Limited Edition
,
Log Still Distillery
,
Lux Row Distillers
,
Lynne Dant
,
Mint Julep Transportation
,
Oscar Getz Whiskey Museum
,
Preservation Distillery
,
Samantha Brady
,
Scout and Scholar Brewery
---
You might also like
---