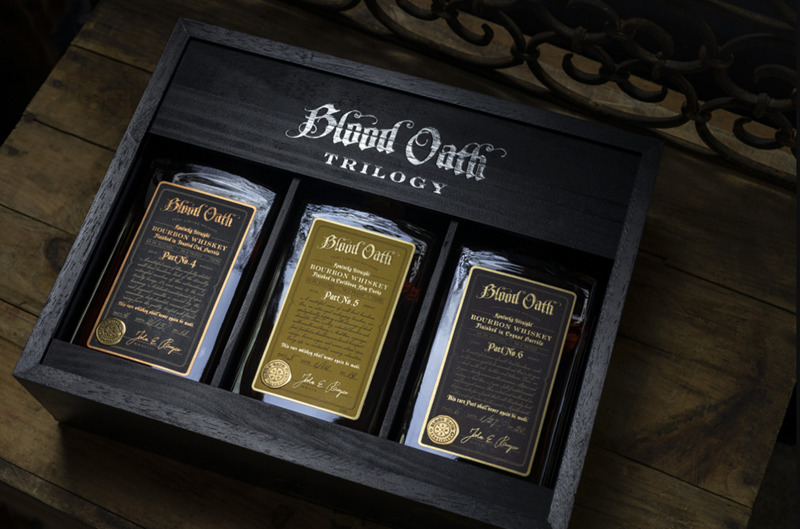 Lux Row Distillers has announced that they will be releasing a second edition of its Blood Oath Trilogy set, the latest collection of limited-release bourbons, or "Pacts," created & introduced by Lux Row Master Distiller John Rempe. Consisting of three 750 ml bottles of Pacts 4, 5 and 6, this latest Trilogy is a limited release with only 1,400 sets, and its suggested retail price reflects the quality and scarcity of these bourbons.
In 2014, Rempe decided to create an exceptional bourbon using a blend of three unique Kentucky straight bourbon whiskeys. The following year, that idea came to fruition with the creation of the Blood Oath series. The name refers to a promise Rempe made to keep the blend of Kentucky straight bourbon whiskeys a secret known only to him, as well as a promise to create the best bourbon for bourbon connoisseurs. Now, every year Rempe adds a new Pact to the Blood Oath family.
Each Pact comes in at 98.6 proof (49.3% ABV), is carefully crafted and will never be repeated.
Again this is a second release of the Trilogy set that contains Blood Oath Pacts 4, 5 and 6 – reserved since 2018, 2019 and 2020, respectively – and is packaged in a black wooden display box designed to highlight each Pact's distinctive label.
Blood Oath Pact 4 is a blend of an extra-aged 12-year bourbon, a rich 10-year bourbon and a 9-year bourbon finished in toasted barrels for seven months. It has an ultra-smooth finish with lasting notes of caramel, vanilla and oak.
Blood Oath Pact 5 is a blend of a 13-year mahogany bourbon, peppery with shavings of dark chocolate; an 11-year silky, wheated bourbon rich with vanilla and honey; and an 8-year bourbon finished in Caribbean rum barrels to impart orange, brown sugar and warm island spice notes.
Pact 6 rounds out the Trilogy with a blend of a 14-year ryed bourbon which provides oak and leather undertones; an 8-year, toasty, ryed bourbon that delivers hints of spice; and a 7-year ryed bourbon finished in cognac casks to produce a slightly fruity, brandy flavor.
"I look back on each Pact I've created for the Blood Oath Series with a tremendous sense of pride and accomplishment, and with each new Pact I develop, I become more eager to create the next," said Rempe. "The bourbons I've selected to create each Pact are becoming rarer and harder to find, as are the resulting Pacts themselves. A Blood Oath Trilogy set is like a piece of bourbon history. I'll never repeat a blend, so once it is gone, it's gone."
Blood Oath Trilogy — Second Edition set to is set to be released for Bourbon Heritage Month, this September with a suggested retail price of $799.
---
Blended Whiskey
,
Blood Oath
,
Blood Oath Trilogy
,
Bottle releases
,
Bourbon Heritage Month
,
Finished Whiskey
,
John Rempe
,
Kentucky Straight Bourbon Whiskey
,
Lux Row Distillers
,
Luxco
,
MGP
,
MGP Ingredients
---
You might also like
---