Blue Run Spirits not only released its first distillation from Jim Rutledge – Blue Run Kentucky Straight High Rye Bourbon Whiskey, but it has also sold out in only three short minutes!
Bourbon Hall of Famer and legendary master distiller Jim Rutledge continues to deliver the hits, this time he has teamed up with Blue Run Spirits and is serving as their contracted master distiller. This latest release, Blue Run Kentucky Straight High Rye Bourbon Whiskey is the company's second fall release, following closely on the heels of its instantly sold-out, gold medal-winning Blue Run Kentucky Straight Golden Rye Whiskey.
Blue Run Kentucky Straight High Rye Bourbon is a small-batch whiskey and is the first Blue Run product with Jim Rutledge overseeing the production (on all previous Blue Run products, except Golden Rye, Jim served as the Liquid Advisor). Rutledge distilled this batch at Castle & Key Distillery, located in Frankfort, Kentucky.
"For a four-year-old Bourbon, I'm impressed with the quality of this release, and I look forward to evaluating the subsequent releases of these barrels – after additional maturation," said Jim Rutledge.
Blue Run Kentucky Straight High Rye Bourbon is distilled from a 65% Yellow Corn, 30% Rye, 5% Malted Barley mash bill. Just 100 carefully selected barrels were chosen for this bottling, each toasted to a #4 alligator char and aged in Frankfort and Bardstown, KY. Blue Run High Rye Bourbon clocks in at 111 proof.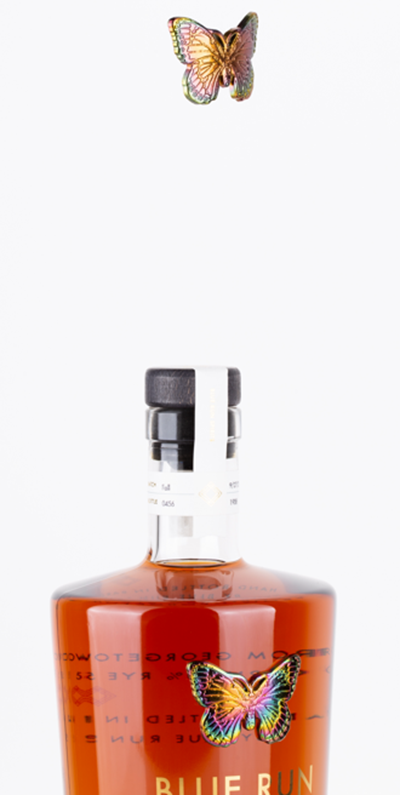 "As we celebrate our one-year anniversary as a company, we wanted to release something that really made a statement and honored the deep traditions of whiskey making," said Mike Montgomery, CEO and cofounder of Blue Run Spirits. "The legendary Jim Rutledge helped us craft a bold, spicy Bourbon that even at 111 proof is incredibly sippable, with a pronounced, memorable finish. We are very excited to see how these barrels evolve over time for subsequent bottlings."
On the tongue, Blue Run High Rye Bourbon is a caramel beauty full of baking spices and a toasted oak frame that crescendos with a stone fruit and black pepper finish. Each bottle features an iridescent coating on the brand's signature gold butterfly to create a prismatic, rainbow-hued medallion, making it easily identifiable on any back bar.
Since Blue Run Spirits launched in October 2020, the company has released five whiskies: the inaugural 13-Year-Old Bourbon; 13.5-Year-Old Single Barrel Bourbon, which was awarded top category honors at the prestigious 2021 San Francisco World Spirits Competition winning Best Single Barrel Bourbon – 11 Years & Older, as well as a Double Gold Medal; 14-Year-Old Small Batch Bourbon, which won Best Small Batch Bourbon – 11 Years & Older, along with a Double Gold Medal; and the most recent release – Golden Rye Whiskey – which received a Gold Medal in San Francisco.
Blue Run Kentucky Straight High Rye Bourbon Whiskey is available for $89.99 SRP. It will be followed by several holiday releases.
Find Blue Run Spirits online at http://www.bluerunspirits.com, and on social media: Instagram, Facebook and Twitter.
ABOUT BLUE RUN SPIRITS
Blue Run Spirits is a new kind of spirits company, creating a unique luxury proposition by tapping into the deep heritage and craft that makes a truly great whiskey, then elevating it through a modern design and marketing lens to reach a younger, broader and more diverse whiskey drinker. The company's founders include a Nike designer, the first director-level employee at Facebook, a hospitality executive, a political advisor, and a philanthropist – all huge whiskey fans and individuals who acutely understand how to build demand and buzz for a contemporary consumer product. They are backed by a team of advisors including Nike marketing experts; the Campari communications veteran behind Wild Turkey and the Aperol Spritz; a former spirits distributor; and others with deep industry experience. The Blue Run name is a nod to one of our founder's upbringing in Georgetown, KY.
---
---
You might also like
---