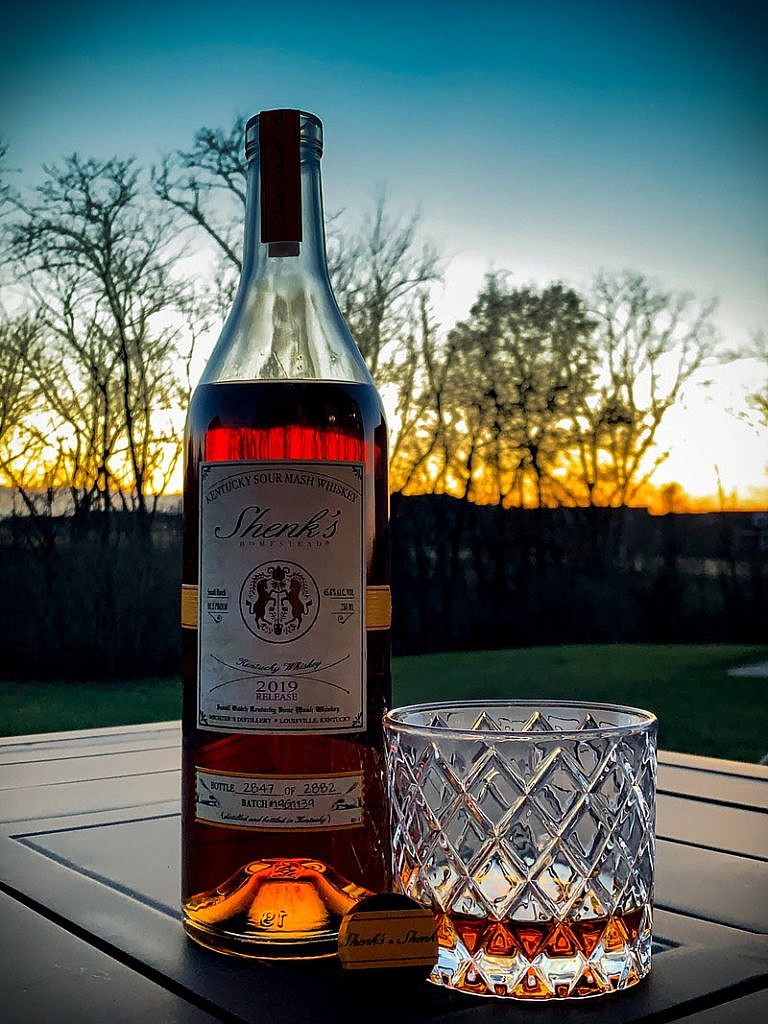 It's the first day of 2020 and we decided to open a bottle of Shenk's right as a beautiful Kentucky sunset appeared. Blue is an almost sacred color to Kentuckians, (think bluegrass and the University of Kentucky) and this predominantly blue sunset seemed like a poetic way to begin a new decade.
I acquired this bottle after a very intimate Michter's event November 7, 2019, at Newberry Bros. Coffee and Prohibition Bourbon Bar in Newport, Kentucky where Master of Maturation and Executive Vice President – General Manager, Andrea Wilson, spoke at length about the brand, hosted a special tasting and answered questions. I bought this bottle of Shenk's that night and decided today that I would open it and enjoy a pour to start the new decade off right.
This small batch bottle of Shenk's is a 2019 release. It's bottle 2847 of only 2882 and is a sour mash whiskey. I enjoyed my pour neat.
Appearance: Deep amber
Nose: Sweet Crème brûlée, orange and smoke
Palette: Luxurious & silky mouth feel, notes of burnt sugar followed by oak and cherry.
Finish: Lemon rind and lingering notes of spice
Michter's is known for their highly drinkable, low proof bourbons and the Shenk's 2019 sour mash whiskey follows in that tradition. The mash bill isn't completely known, but according to Michter's, this Shenk's is made of a "good deal of rye." Unlike the 2018 Shenk's release, where French Oak was used, the 2019 was matured entirely in American Oak barrels, some of them being the special species of oak called Chinquapin (Quercus muehlenberg).
Shenk's Homestead Distillery Sour Mash Whiskey honors the legacy of historic American whiskey figure John Shenk, who in 1753 founded a distillery that was to become known as Michter's in the 20th Century. It is made in Kentucky according to the traditional sour mash process whereby a portion of the previously distilled whiskey mash (referred to as "setback") is added into the next batch, much like the starter in sourdough bread. (In contrast, a bourbon's unique character begins with the 51 to 79 percent corn recipe and may be double-distilled and aged at least two years in charred oak barrels.)
---
---
The sour mash process inherently gives the whiskey a sweeter, deeper flavor to the final product. Some say (and this might be how wars begin) that sour mash whiskeys are superior and easier to drink than traditional bourbon (please aim your fire another way, I'm merely here to drink and discuss these matters).
I absolutely recommend picking up a bottle of Shenk's if you are fortunate enough to find one. Plan to spend around the $100 range on a bottle. It's sweet, citrus and smoky flavors and gorgeous dark amber color will be a welcome addition to your collection.
---
1753
,
American Oak
,
Andrea Wilson
,
Chinquapin
,
John Shenk
,
Michter's Distillery
,
Newberry Bros
,
Prohibition Bourbon Bar
,
Rare Release
,
Shenk's Homestead
,
Small Batch
,
Sour Mash
,
Tasting
,
Whiskey
---
You might also like
---