Introduced in 1992 by Booker Noe, grandson of Jim Beam, and named for the creek that ran behind Abraham Lincoln's childhood home in Kentucky, Knob Creek Farm, Knob Creek Bourbon was launched as part of the Jim Beam Small Batch Bourbon Collection, which also includes Booker's, Baker's and Basil Hayden's.
This new bourbon brand would be produced and marketed as a premium small batch Kentucky straight bourbon, that would be distilled under the direction of 6th and 7th generation master distillers, Booker & Fred Noe.
After distillation the liquid would have to rest in the barrel for at least nine years and then would be bottled at 100 proof. This would prove to be a hit for the brand as Knob Creek would gain in popularity amongst bourbon drinkers and has become a staple to many as a bold, full-flavored pre-prohibition style Kentucky Bourbon.
As consumer demand grew over the years, Jim Beam Distillery would have to announce that they had a barrel shortage and that there was not enough product resting in its Knob Creek rickhouses. The popularity and shortage ultimately caused the distillery to remove the nine-year age statement from the bottle for a period of time since it could no longer guarantee that maturation would be at least nine years old. Certainly, both a good and bad problem to have.
Production along with inventory would increase over time and in 2020, enough bourbon had been aged long enough, that the nine-year-old age statement would once again make its return to the bottle. With its growth and success, the Knob Creek portfolio would also expand to include, single barrel, cask strength expressions and even adding rye whiskies to the lineup.
Today, you will find Knob Creek Bourbon on the shelf with 9-, 12-, and 15-year age statements. However, 2022 marks the 30th anniversary of Knob Creek under the distillery and that of course is something to recognize.
Earlier this fall, the James B. Beam Distilling Co. (Jim Beam Distillery | DSP-KY-230) wanted to celebrate their journey with a limited-edition bourbon release.
---
"As we celebrate 30 years of Knob Creek, it's clear to me that Dad was ahead of his time in creating innovative expressions with big, bold flavors that defined pre-prohibition whiskey,"
– Fred Noe, Booker Noe's son and Seventh Generation Master Distiller
---
Packaged in a commemorative wood display box and carrying an age statement of eighteen years, that's double the age statement of the original if you are counting, Knob Creek 18-Year-Old Bourbon is a limited-edition small batch Kentucky straight bourbon that's extra-aged and bottled at 100 proof with a suggested retail price of $169.99
Now let's have a look and see what this bourbon and made of and have a taste for ourselves!
---
The Facts
Vintage / Release: Fall 2022
Age: 18 years old
Proof / ABV: 100 / 50% ABV
Closure: Wood stopper w/ synthetic cork
Format: 750ml clear glass bottle, wax top

Availability: Limited
Suggested Retail Price: $169.99
Our cost: $169.99
Cost per year aged: $9.44
Average cost per 1oz. pour: $6.70
---
Tasting Notes
Tasted in: Glencarin, neat
Color: Burnt Umber
Nose: Excellent nose with hints of dark fruit, oak, caramel and leather.
Palate: Oily mouthfeel with rich oak, vanilla, creme brûlée, dark cherry and a slight tobacco note.
Finish: Very long finish with the oak shining through trailing off to baking spices.
The viscous mouthfeel paired with the finish keeps me going back for another sip.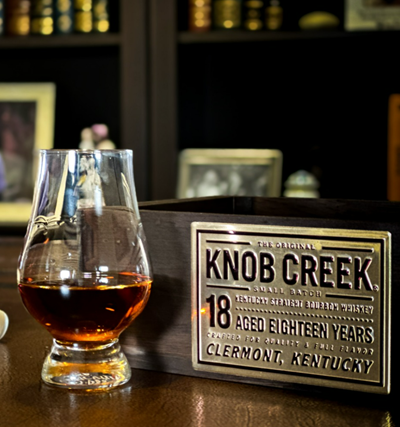 ---
Final thoughts
There has been a lot of discussion online about how people wish this release was offered at cask strength and that Knob Creek shouldn't have proofed it down to the standard 100 proof / 50% ABV. Especially since this is a special limited-edition anniversary release that marks a very important milestone for Knob Creek. Valid argument as we see proof as flavor but with that being said, don't judge a book by its cover, or in this case, a bourbon by its proof.
I think Fred Noe and the team at Knob Creek made the right decision in proofing this bourbon down to 100 / 50%. This decision not only gave us fantastic tasting bourbon it also did a couple of other things.
Number one is that since this has been batched and proofed to 100, this ultimately yielded more bourbon for us all to enjoy and gives more people the opportunity to try and experience it.
The second thing is that this is an 18-year-old bourbon. Would I like to sample it at cask strength? Sure. But my gut, and my palate tells me that it would have been way over oaked and not as enjoyable. Proofing this down to 100 was the right decision as it delivers a more nuanced and pleasurable sipping experience.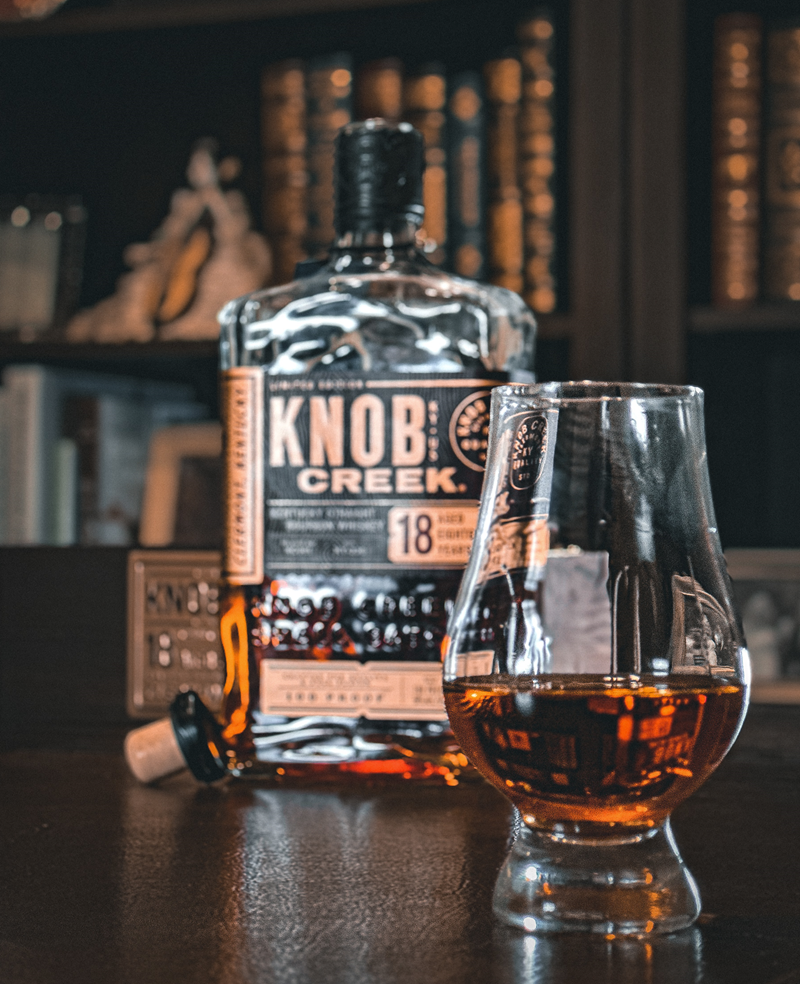 Overall, I think that this is one very delicious bourbon and I enjoyed it so much that I sought out to secure a backup bottle. It's that damn good! Knob Creek absolutely knocked this one out of the park!
I recommend that you give this a try if you see it at a local bar and you should definitely pick up a bottle for your own bar. Lastly, always remember to share it with family and friends!
Bonus:
Did you notice the "Release No. KC001" on the front label?
Is this filler for the label design or does this actually mean that Knob Creek 18-year bourbon may make another appearance sometime in the near future?
I certainly hope so but like great bourbon, time will only tell…
Cheers!
---
Abraham Lincoln
,
Beam Suntory Inc
,
Booker Noe
,
Clermont
,
DSP-KY-230
,
Fred Noe
,
Freddie Noe
,
James B Beam Distilling Co
,
Jim Beam
,
Jim Beam Small Batch Bourbon Collection
,
Kentucky Straight Bourbon Whiskey
,
Knob Creek
,
Limited Edition
,
Tasting Notes
---
You might also like
---