The revival of a historic bourbon brand begins with Wm. Tarr Distillery's first releases: Manchester Reserve and Inheritance.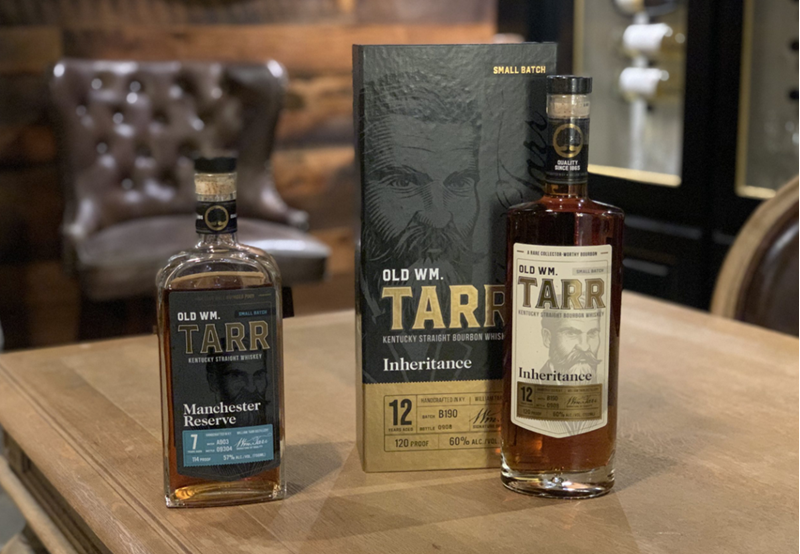 Old Wm. Tarr Manchester Reserve, a Kentucky straight blended whiskey, and Old Wm. Tarr Inheritance, a 12-year Kentucky bourbon, are now available from an historic Bluegrass brand. Wm. Tarr Distillery, the first distillery registered in Lexington, Kentucky, which earned it the mark RD1, has been revived after nearly 100 years.
In 1865, a small group of Lexington merchants established the first nationally registered distillery in Lexington, the Ashland Distillery. After creating multiple iconic brands and surviving many ups and downs, the distillery, then known as William Tarr Distillery, shuttered its doors in 1920.
A hundred years later, a new group of investors is reviving the historic brand with the release of its first products: Old Wm. Tarr Manchester Reserve and Old Wm. Tarr Inheritance.
Jill Bakehorn, owner of an event venue and a catering company on Lexington's Manchester Street, discovered the remarkable history of William Tarr and decided to bring back the brand and legacy with co-founder Barry Brinegar, a Lexington marketing executive and bourbon aficionado.
"Our first release is an exceptional product, a 7-year Kentucky bourbon blended with an 8-year rye," said Bakehorn, Wm. Tarr Distillery CEO. "I like drinking a dimensional bourbon. The rye comes in to elevate your tasting experience and the element of cherries adds a sweet finish. It's perfect neat or straight, and I especially enjoy it over ice with a twist of orange as a simple cocktail."
Brinegar, also a history buff, is equally enthusiastic.
"The opportunity to develop bourbon products that will stand the test of time is a dream for someone like me," said Brinegar, who serves as Wm. Tarr president. "Manchester Reserve and Inheritance are worthy of the brand. The quality of these products really is the essence of why Kentucky is a leader in the global production of bourbon."
---
Manchester Reserve
Manchester Reserve was developed for the experienced palate and will be appreciated by any level consumer. It has a brilliant amber appearance with reddish hues and golden streaks with deep tones of smoky topaz. Grains of sweet corn, smoldering wood sugar, dark raisin and praline are predominant. Detailed tasting notes are available at wmtarrdistillary.com.
The carefully selected bottle is a nod to 19th Century Old Tarr packaging but with a sleeker appeal and cork stopper. The slate gray label boasts an illustration of Tarr as he is imagined to have looked in his prime. An oak tree on the neck band is a reminder of the white oak container in which it was aged. RD1 stamped into the cap top claims the position of Wm. Tarr as the first federally registered distillery in Kentucky
Inheritance
Old Wm. Tarr Inheritance, a 12-year limited release bourbon, is a well-matured, ultra-premium bourbon presented in a custom-designed box with an additional label autographed by University of Kentucky head football coach Mark Stoops. The rare Kentucky bourbon is the color of summer wheat. Clove, nutmeg, subtle hints of cinnamon, light mint and toasted pecans are predominant.
Manchester Reserve is distributed through RNDC to retail establishments across Kentucky. It is also for sale through the distillery's website with curbside pickup. Inheritance is available only through the distillery's website with curbside pickup. Online ordering and delivery will be added soon.
Curbside pickup for online orders is at Wm. Tarr Distillery in the historic Pepper Rickhouse located in Lexington's Distillery District at 1170 Manchester Street, Suite 190. The facility soon will be home to the Wm. Tarr tour experience. In the meantime, it will host private tastings and related events.
Whiskey fans are encouraged to check Wm. Tarr Distillery's social media pages frequently for virtual tasting events and other opportunities to learn more and engage with others. In addition, direct-to-consumer ordering is coming soon.
Wm. Tarr Distillery is a member of Drink Smart® and encourages all consumers to drink responsibly.
For more information about Wm. Tarr Distillery, its history and products, visit wmtarrdistillery.com.
About Wm. Tarr Distillery
Wm. Tarr Distillery is a 2020 revival of the business established in 1865. Inspiration for the modern bourbon products came from extensive research of the distillery, which revealed a successful entrepreneur and compassionate soul in William Tarr. His forward-thinking business acumen resulted in products that have remained relevant across generations.
The craft production distillery experience will include a full bar, tasting area and gift shop with plans for a cigar patio. Wm. Tarr is privately owned by proud Kentuckians. In addition to co-founders Jill Bakehorn and Barry Brinegar, investors include Mark and Chantel Stoops, Jim Green and Key Investments.
---
Barry Brinegar
,
Bottle Releases
,
DSP-KY-15007
,
DSP-KY-20017
,
DSP-KY-20105
,
Jill Bakehorn
,
Lexington
,
Mark Stoops
,
Old Wm. Tarr Inheritance
,
Old Wm. Tarr Manchester Reserve
,
RD1
,
RD1 Spirits
,
William Tarr Distillery
,
Wm Tarr Co.
,
Wm. Tarr Distillery
---
You might also like
---