From the hallowed racks of the Camp Nelson warehouse comes the latest release in the award-winning Wild Turkey Master's Keep series – Master's Keep Bottled in Bond.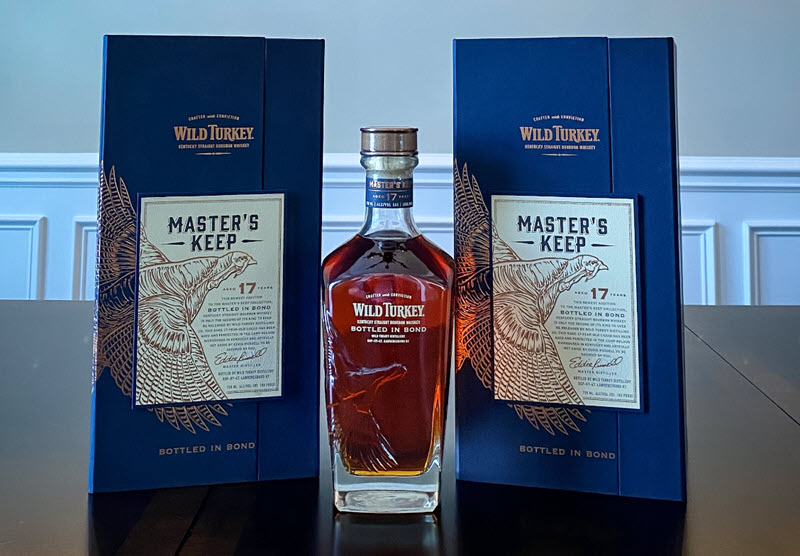 The fifth release designated worthy of the Master's Keep imprimatur, Master's Keep Bottled in Bond is a 17-year-old Kentucky straight bourbon whiskey. The bottling is only the second-ever Wild Turkey bourbon to carry the bottled-in-bond label – a certification that guarantees a strict production process and ensures incomparable flavor and consistency.
The Bottled in Bond designation has grown significantly alongside the interest in heritage spirits. To carry the Bottled in Bond label, the bourbon must be the product of one single distilling season from one distillery, aged in a federally bonded warehouse and artfully bottled at 100 proof.
---
---
Thirteen years earlier, Wild Turkey released its first-ever Bottled in Bond expression – aptly named American Spirit. At the time, American Spirit was one of the first "Bottled in Bond" whiskies released by a bourbon distiller and among the oldest American whiskey entrants in the U.S. market at 15 years of age. Always ahead of the curve, legendary distillers Jimmy and Eddie Russell were keen to release a big, bold bourbon – which they accomplished by tasting several different batches and landing on an older whiskey that had the distinctive merits of a deeply aged liquid. Those taste markers inspired Eddie as he worked on this latest Bottled in Bond release.
"With our own Master's Keep Bottled In Bond, we took the historic process and protocol of aging for four years to the next level and allowed the liquid to rest for 17 years," said Eddie Russell, Master Distiller at Wild Turkey. "We aged and perfected this rare, 17-year-old bourbon in Wild Turkey's Camp Nelson rickhouses. This expression is a nod to the past, both our own heritage and the heritage of American whiskey-making as a craft."
Master's Keep Bottled in Bond is a true emblem of the distillery's unrivaled statement of distinction. The bourbon has an enticing taste and aroma of toasted oak, apple and dark cherry highlighted by the sweet confectionary flavors of vanilla, brown sugar and toffee. At 100 proof (50% alc. by volume), the enjoyable, lingering finish is complete with dark notes of mocha, smoke and spice.
Like its predecessors, Master's Keep Bottled in Bond will be a limited release with approximately 14,400 bottles of this unique spirit available for purchase. The whiskey will be available for a limited time at select retailers in the United States for MRSP $175.00 per 750 mL bottle. For additional information, please visit www.wildturkey.com.
About Wild Turkey
The distillery for Wild Turkey Bourbon is located in Kentucky, situated on a deep limestone shelf on the Kentucky River. The shelf acts as a natural filter and provides the distillery with crystal clear water, vital to making such a high-quality product. Wild Turkey features the legendary father and son Master Distilling team of Jimmy and Eddie Russell, who have nearly 100 years of collective experience working at the Wild Turkey distillery.
The famous Wild Turkey brand name first came about back in 1940 when distillery executive Thomas McCarthey took a few warehouse samples on a Wild Turkey hunting trip with a group of friends. The following year, his friends asked him for "some of that Wild Turkey whiskey" and the brand was born.
Wild Turkey is distilled and put into new oak barrels at a much lower ABV than most bourbons. This results in a much richer flavor, as less is cooked out during the production process. Ageing in the highest quality new American oak barrels with the heaviest char available (the Number 4 "alligator" char), imparts a smooth flavor and deep amber color to the whiskey.
The barrels are filled at the distillery in Lawrenceburg, Kentucky. Website: wildturkey.com.
---
---
You might also like
---