Heaven Hill Distillery recently announced the release of the 17th edition of the Parker's Heritage Collection, featuring a 10-Year-Old Cask Strength Rye Whiskey.
The 17th edition is comprised of 10-year-old Rye Whiskey that was barreled in August, October, or December of 2012. The barrels were aged on the first floors of Rickhouses H1 and H2, the fifth floor of Rickhouse FF, the third and seventh floors of Rickhouse BB, and the second floor of Rickhouse DD.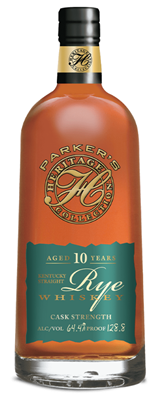 At bottling, the liquid was
non-chill filtered
to preserve the natural flavors of the aging process.
The mashbill for this edition is comprised of Heaven Hill Distillery's traditional Rye Whiskey Mashbill 51% rye, 35% corn, and 14% malted barley and bottled at cask strength, 128.8 proof.
---
Parker's Heritage 17th Edition Tasting Notes:
Color:
Cherrywood
Nose:
Spice-forward with a rich, fruity sweetness
Taste:
Black cherries mixed with honey, cinnamon and cloves
Finish:
Plentiful spice with notes of cherries
---
"Keeping Parker's legacy alive through this ultra-premium offering is something we're very dedicated to at Heaven Hill Distillery," said Susan Wahl, Vice President of American Whiskey at Heaven Hill.
"Parker laid the groundwork for this series, and we believe this Cask Strength Rye release is one that would make him proud."
The late Heaven Hill Master Distiller Parker Beam, for whom the acclaimed series is named, was diagnosed with Amyotrophic Lateral Sclerosis (also called ALS or Lou Gehrig's disease) in 2010. Since 2013, proceeds from sales of the Parker's Heritage Collection have raised more than $1.2 million dollars toward ALS research and patient care through contributions made by Heaven Hill for each bottle purchased. With this edition, Heaven Hill will again contribute a portion of the proceeds from each bottle sold to the ALS Association.
---
---
Packaged in the same upscale 750ml bottle as the previous sixteen editions, but with an emerald-colored label, the newest Parker's Heritage Collection is available in a three-bottle case and will arrive at retail locations starting in mid to late September.
The 17th Edition is an allocated product and will be available in limited quantities at the suggested retail price of $185.00. Like the previous editions, a portion of the proceeds will continue to support ALS research and patient care in honor of Parker Beam, Master Distiller Emeritus.
With previous releases having won multiple awards from Whisky Advocate, Whisky Magazine, the Ultimate Spirits Challenge and the San Francisco World Spirits Competition, the series stands as some of the most critically lauded American Whiskeys in recent memory. Past bottlings have won awards ranging from "Best Special Barrel Finished Bourbon" and "Best North American Whiskey" to "American Whiskey of the Year" and "Best of Show, Brown Spirits."
ABOUT HEAVEN HILL DISTILLERY:
Founded in Kentucky by the Shapira family in 1935, Heaven Hill Distillery continues its legacy as one of the foremost American Whiskey producers. Heaven Hill has cultivated the traditions and history of America's Native Spirit with its fierce independence, passionate family ownership, dedication to quality, and thoughtful innovation.
Today, Heaven Hill Distillery maintains over 2 million barrels aging in more than 70 warehouses throughout Nelson and Jefferson Counties. It is home to an award-winning collection of American Whiskeys including Elijah Craig Bourbon, Larceny Bourbon, Evan Williams Bourbon, Pikesville Rye Whiskey, Rittenhouse Rye Whisky, Parker's Heritage Collection, and Old Fitzgerald along with its extensive Bottled-in-Bond label collection. Heaven Hill Distillery currently holds the title of 2023 Whisky Magazine Distillery of the Year and 2023 World's Best Small Batch Bourbon from the Icons of Whisky, as well as the 2022 Large Spirits Producer of the Year from the Ascot Awards.
Heaven Hill Distillery held the title of 2020 Whisky Advocate Whisky of the Year, the second Whisky of the Year for Heaven Hill Distillery in the past four years. In 2019 Heaven Hill Distillery was named San Francisco World Spirits Competition Distillery of the Year, Best in Show Whisky, and previously held the titles of 2018 San Francisco Spirits Word Spirits Competition Best Bourbon, 2016 Whisky Magazine Distillery of the Year.
For more information, please visit heavenhilldistillery.com.
---
ALS Association
,
Bottle Releases
,
Cask Strength
,
DSP-KY-1
,
DSP-KY-31
,
Heaven Hill Distillery
,
Kentucky Straight Rye Whiskey
,
Non Chill Filtered
,
Parker Beam
,
Parker's Heritage Collection
,
Susan Wahl
---
You might also like
---