Bardstown Bourbon Co.'s Collaboration with Goose Island Bourbon County Stout Celebrates a Spirituous Union of Bourbon and Beer
Bardstown Bourbon Company will release its latest in the award-winning and sought after Collaborative Series this month, a blend of Kentucky Straight Bourbon finished in Goose Island Bourbon County Brand Stout barrels.
This limited release features a bespoke blend of 6- and 7-year Kentucky bourbon aged an additional 12 months in freshly emptied Goose Island Bourbon County Brand Stout barrels.
These barrels were not rinsed so the stout soaked staves could immediately mingle with the Kentucky bourbon once filled. The finished blend was then married with a beautiful 9-year Kentucky bourbon, creating an expression bursting with chocolate malt and dried cherry.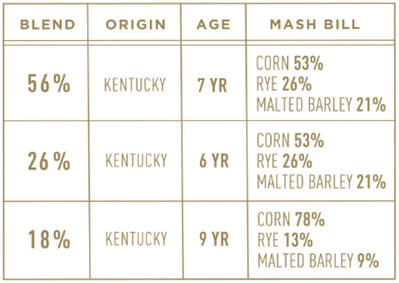 Dark chocolate, honey, toasted almond and vanilla cream create an enveloping and decadent aroma. On the palate, roasted malt, cacao and allspice lead to a lasting balance of exquisite flavor.
"Goose Island is the perennial trailblazer of craft brewing and a perfect partner for collaboration," said Dan Callaway, VP of Product Development for Bardstown Bourbon Co.
"I adore their Bourbon County Brand Stout and jumped at the opportunity to explore flavor together. This bourbon accentuates the depth of stout while maintaining beautiful fruit, malt, and honey. A true team effort!"
Goose Island is known across bourbon and beer as the pioneer of barrel-aged stouts and have a history of collaboration with some of the most sought-after bourbon brands in the world. Since 2010, Goose Island has released Bourbon County Brand stout original and limited, variant releases each Black Friday. The Original Bourbon County Brand stout boasts deeply developed flavors of fudge, vanilla and caramelized sugar with a rich, decadent mouthfeel.
Unlike traditional barrel-finishing, the barrels were not rinsed after emptying the stout. Instead, Bardstown Bourbon left the residual liquid in the barrel. The stout barrels were emptied in Chicago in the morning and filled in Bardstown the same afternoon. The result is a spirit that bursts with authentic flavor that will delight both spirits and beer enthusiasts.
---
---
The Goose Island Collaborative Series release is presented at a cask strength of 100 proof (50% ABV) and offered at an SRP of $159.99. Roughly 3,500 9L cases of the finished bourbon will be available through the Bardstown Bourbon Co. gift shop, at retailers in 24 states tarting on September 8, 2023.
In celebration of the collaboration, Bardstown Bourbon Co. and Goose Island will host two events celebrating the art of cask finishing. A paired dinner will take place on Thursday, Sept 21 from 6-9 p.m. in the Goose Island Barrel Warehouse in Chicago. The event will feature The 2020 Bourbon County Brand Stout, and explore unique offerings from Bardstown Bourbon Company. Tickets for the Chicago event are available for $150 per person. More information & tickets are available here.
On September 27, Bardstown Bourbon Co. Executive Chef Stu Plush will prepare a one-time special prix fixe menu to celebrate the collaboration. More information and tickets for this four-course paired dinner are available here.
About Bardstown Bourbon Company
Founded in 2014 by Peter Loftin in the heart of Bourbon Country on 100 acres of active farmland, Bardstown Bourbon Company is one of the country's most modern and technically advanced whiskey distilleries. Celebrating the art of making high-quality, authentic bourbons, the innovative distillery produces custom rye, whiskey and bourbon for prominent brands including Jefferson's, Blue Run, Belle Meade and many others through its one-of-a-kind collaborative distilling program. Bardstown Bourbon Company honors tradition and drives innovation with their exceptional destination experience for visitors, including The Kitchen and Bar at Bardstown Bourbon Company. In addition to their flagship Origin Series, BBCo. offers limited releases throughout the year including the Discovery Series, which showcases the art of blending, and Collaborative Series, which celebrates partnership and transparency across multiple spirit categories. Bardstown Bourbon Co. also owns Green River Distilling Co, located in Owensboro, Kentucky. Learn more at BardstownBourbon.com.
---
Bardstown
,
Bardstown Bourbon Company
,
Bardstown Bourbon Company Collaborative Series
,
Beer
,
Bottle Releases
,
Dan Callaway
,
DSP-KY-20037
,
Finished Whiskey
,
Goose Island Bourbon County Brand Stout
,
Kentucky Straight Bourbon Whiskey
,
Stu Plush
---
You might also like
---