Over the weekend, the Mrs. & I decided to get out of the house for a bit, enjoy the some of the early spring weather and go for a Saturday drive. While out and about, we ventured into Covington, Kentucky and happened upon Revival Vintage Bottle Shop. We were excited to find it and one quick u-turn later, we parked and entered the small building.
Revival has only been open for about 6 months. The interior is clean and shows its age—or lack thereof. New dark wood floors, fresh paint and trendy pendant lights above the bar are a definite contrast to the dusty bottles that inhabit the shelves of the narrow store.
---
Brad "Dusty" Bonds, one of Revival's owners, immediately greeted us and was eager to sell us either a bottle or a pour. Revival has a four-seater bar where you can taste a bourbon that's older than you are.
Bonds explained that he his passion for vintage bourbons goes back a decade when he started personally collecting. In 2018, he ditched his 9 to 5 to work for Cork 'N Bottle's vintage spirits division. As they say, the rest is history and he is one of three owners of Revival.
Revival provides the bourbon experience that true enthusiasts long for and dream of. Some of the bottles are a couple of decades old, while others date back to pre-prohibition. It's hard not to get swept up in the pure romanticism of it all.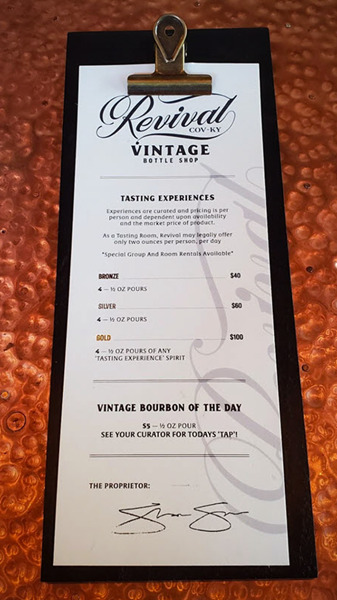 During our visit we even got to witness an appraisal and acquisition of some old bottles. A lady and gentleman walked in with a box of old, nondescript bottles. One bottle had a crumbling label that indicated it was a cognac. Several other bottles lacked any label or description at all. The gentleman seller claimed to have no idea about the contents. After a brief exchange, Bonds excitedly made the man an offer which he accepted. Bonds then proceeded to use what looked like toothpicks to carefully pry open one of the mysterious bottles. Like a whiskey scientist, Bonds then pulled out his hydrometer and determined the proof to be 120. How neat is that!?
We decided to purchase two historic pours to try. Looking behind the bar I stared at vintage bottles of Jim Beam, Old Crow, O.F.C, and even Old Fitzgerald, dating back to the 1970s.
Admittedly, the decision about what to try can feel overwhelming at first, but Bonds was happy to tell us more about the whiskies that were available including some of the ones he personally enjoys.
And this is the heart of Revival—learning about spirits of bygone eras from someone who not only possesses knowledge, but a love of what each bottle has to offer. Whether you want to know about the tax stamps, the purpose of the bottle, (travel whiskey?!) or how it tastes, Bonds provides it all.
Our tasting experience started off with a pour of Old Crow from 1973 that was presented in a travel decanter or "traveler fifth" which was meant to be safely packed in your bag or luggage so you can enjoy your favorite whiskey while traveling. Yes, the purpose of this bottle was to sit snuggly inside a suitcase. I imagine the travel whiskey nicely accompanied smoking a cigarette in an airplane. Those were the times, as they say.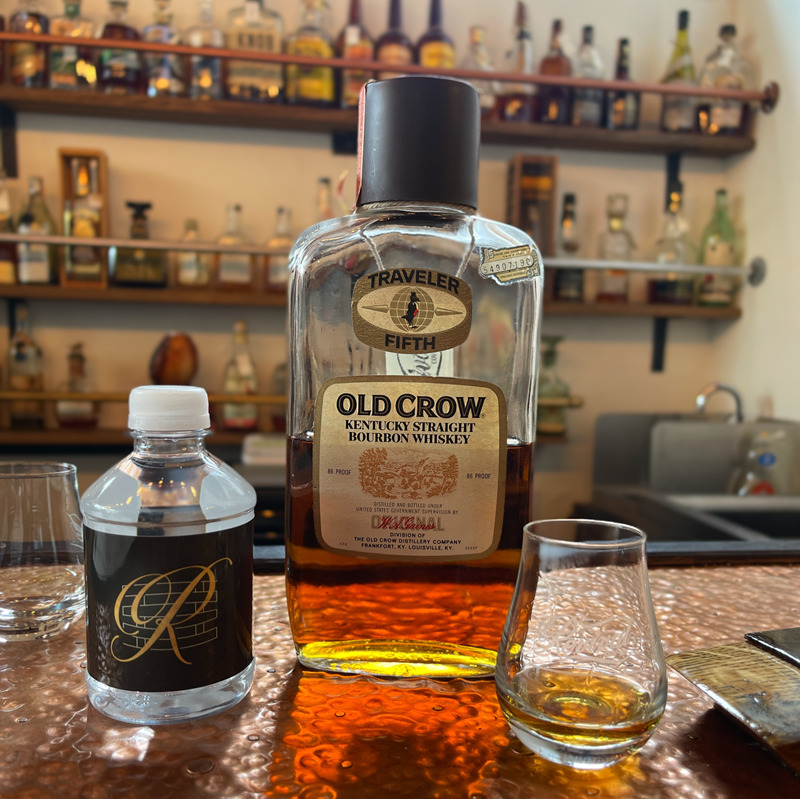 So what does a whiskey from 1973 taste like in 2021? The nose was soft, and the flavors were sweet and buttery, with notes of caramel and a hint of oak. It was delicious!
I couldn't leave without having a pour from a bottle I had eyed from the moment we walked through the heavy, dark green door of Revival. Old Fitzgerald. I have been curious about old Stitzel-Weller juice after recently reading Pappyland by Wright Thompson.
---
---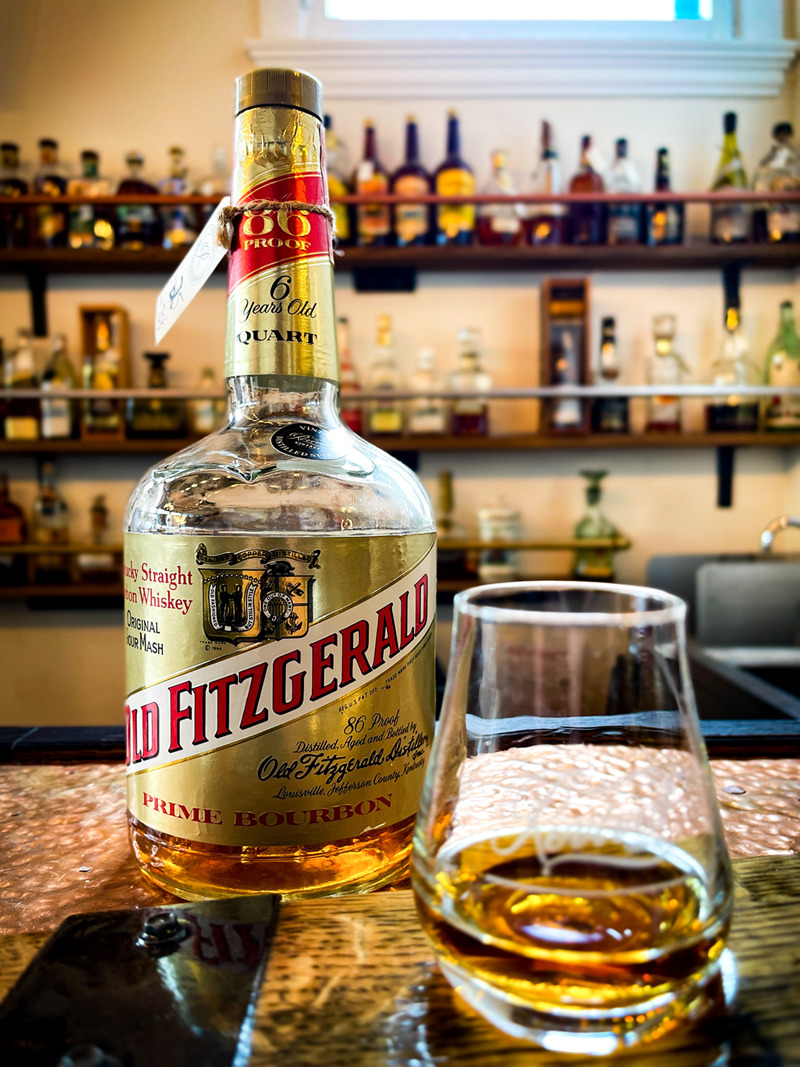 I took my time and savored every drop of this pour because it's not every day you happen upon the opportunity to try 1970s era Old Fitz.
The nose was sweet & inviting, and upon tasting we got those sweet notes upfront that changed to a light spice just as bourbon coats your palate. It honestly made our mouths water. I thoroughly enjoyed this one and can honestly say I have never had anything quite like it. The unique experience even led to a "Oh, now I get it" moment and it's now clearer than ever as to why people chase these old bottles.
Before heading out, we peeked around the shop some more and decided to purchase a tiny vial of Early Times from 1969 to take home with us. Some of the vintage bottles cost several thousand dollars, but this $15 option allowed us to take home vintage whiskey at an affordable price.
---
After leaving Revival, we stopped in one of our local liquor stores and found a few Early Times (Brown Forman) bottles sitting on the shelf. We purchased the bottles for $25 each. Sometime soon we will do a side-by-side tasting—a past meets present sort of thing.
It was a great afternoon of exploring the Northern Kentucky area. We traveled back in time at Revival with the help of Brad Bonds and settled back into present day at a local liquor store. If you find yourself in the Covington, Kentucky area be sure to stop in say hello to Brad and have a pour of something from another time. Cheers y'all!
---
Revival Vintage Bottle Shop
A retail and bottle shop that merges Kentucky's spirited history with a one-of-a-kind shopping and tasting experience in Covington.
Address: 5 E 8th St, Covington, KY 41011
Phone: (859) 479-2676
More info: revivalky.com
Hours of Operation
Wed – Sat: 12PM-8PM
Sun: 12PM-5PM
Closed Mon & Tue
Call for after-hours appointments
---
Bars
,
Bottle Shop
,
Brad Bonds
,
Covington
,
Dusty
,
Early Times
,
Heaven Hill
,
History
,
OFC
,
Old Fitzgerald
,
Revival Vintage Bottle Shop
,
Stitzel Weller
,
Tasting
,
Vintage
---
You might also like
---