We're tasting Sam Houston 12 and 14 years today. How are they similar? How are they different? Did we prefer one over the other? Find out below.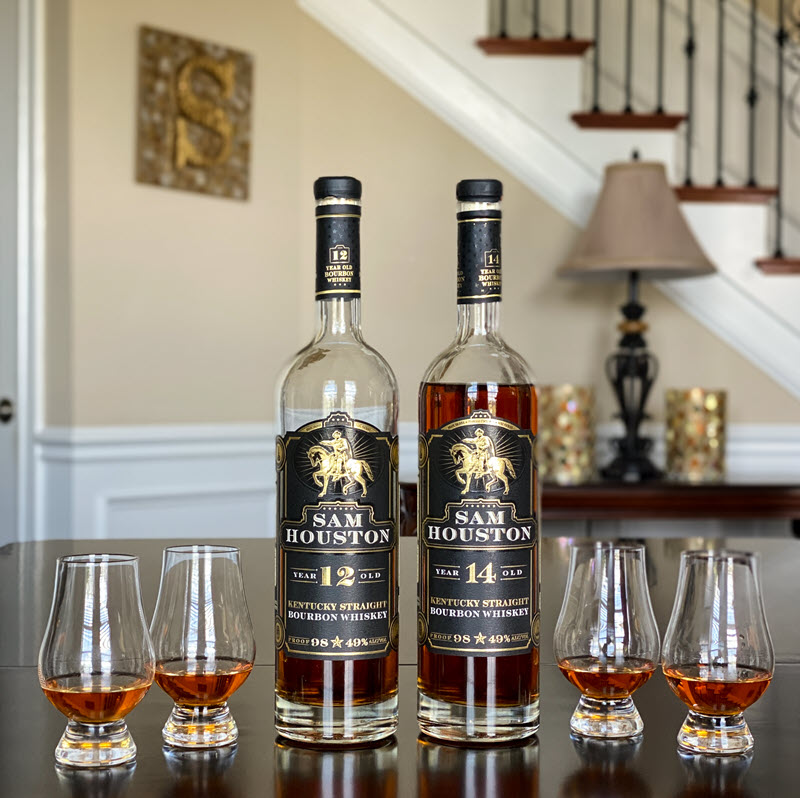 Let's begin with the similarities. Both are Sam Houston bourbons. Both have the same mash bill: 74% corn, 18% rye, 8% malted barley. Both are 98 proof. Both utilize a #4 char level. Both are aged in American white oak barrels. Both batch sizes are a mere 3 barrels.
Now for the differences. The age statements vary. The 12 year was barrel dated at 7 years and 4 months. The age at bottling is 12 years and 4 months. The 14 year is barrel dated at 6 years and 4 months. The age at bottling is 14 years, 1 months. The 14 year also carries a non-chill filtered statement.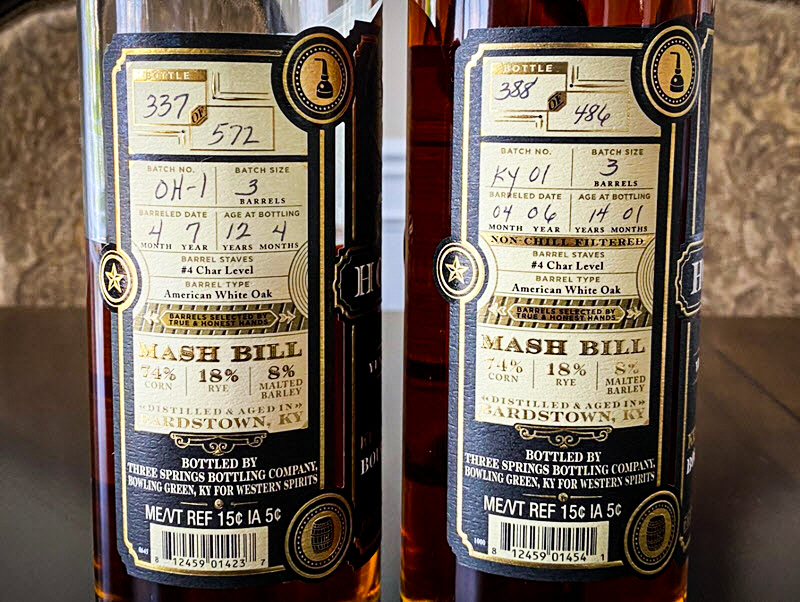 The Tasting. The 12 year Sam Houston has notes of cherry, cinnamon and a heavy pepper finish. The 14 year Sam Houston has notes of oak, tobacco, leather and a hint of citrus. The finish on the 14 year is smooth, while the finish on the 12 year is hot. If we were to personify the two bottles, the 14 year Sam Houston is the more mature, smoother older brother. The 12 year Sam Houston is hotter and more temperamental.
Overall results: Our small panel of judges unanimously chose the 14 year Sam Houston as the overall favorite. However, we also all believe that the 12 year is better than 90% of anything in stores right now.
Press release – Sam Houston Release #4
Sam Houston Bourbon Whiskey has launched a 14-year-old Kentucky Straight Bourbon Whiskey. This latest release will be available in these specific US Markets – Texas, Tennessee, Kentucky, Illinois, Indiana, Missouri, New York, Colorado, New Mexico, Georgia, Maryland, and Washington DC.
Bottled at 98 proof and priced at $119.99 a 750ml, the new batches of Sam Houston were crafted from specific barrels in a private reserve of premium bourbon. The barrels were sampled, ranked, and then combined in extremely small, 3-barrel batches for each particular state. The batches were non-chill filtered, adding depth of character and color. No two batches are the same, yet each bottle is a testament to consistency, showcasing the care and craft utilized in creating this limited and rare bourbon. Each bottle is individually hand-labeled with specific aging notes and numbered.
Over the past two years, Sam Houston Kentucky Straight Bourbon Whiskey was released as a 12-year-old Kentucky Straight Bourbon Whiskey in select US markets. These premium, perfectly aged, well-crafted bourbons are offered in tribute to the life of Sam Houston. He was well-respected as one of the great political men of his day, serving as a congressman, the president of the Republic of Texas, and the governor of two states – Texas and Tennessee.
---
Bardstown Bourbon Company
,
DSP-KY-15008
,
Flight
,
John Hargrove
,
Kentucky Straight Bourbon Whiskey
,
Non Chill Filtered
,
Sam Houston
,
Sam Houston 12
,
Sam Houston 14
,
Steve Nally
,
Tasting Notes
,
Three Springs Bottling Company
,
Western Spirits
---
You might also like
---