15 Stars is a new whiskey company that was founded by father and son entrepreneurs Rick and Ricky Johnson. Inspired by Kentucky's rich history, the company pays homage to Kentucky, America's 15th state, and highlights Kentucky's rich distilling heritage that includes more than 225 years of Kentucky bourbon craftsmanship.
In addition to launching a whiskey company, the Johnsons have collected Kentucky historical items over the years known as the 15 STARS collection. The collection, which includes a variety of rare Kentucky related artifacts, is currently housed online, but will be displayed at tasting events in the future.
"Kentucky was once considered America's "First West", but it was so much more than just early pioneers. The Kentucky of 1795 was prosperous and growing with highly skilled craftspeople working their trades as silversmiths, furniture makers, artists, and distillers," said Rick Johnson, an entrepreneur who has worked in whiskey-related industries including limestone and corn.
"We want to honor these artisans with our brand and really give people a sense that like in those days, this whiskey comes from our hands to theirs." -Rick Johnson
Their first release that I will be reviewing today is 15 Stars Timeless Reserve and is a 103 proof Kentucky Straight Bourbon Whiskey that contains a blend of 14-year-old and older sourced whiskies. The whiskey was created using a "flavor proofing" method by marrying two different mash bills and aged whiskeys that the Johnson's deemed to deliver a more rounded, complex drinking experience that is best enjoyed neat.
Each bottle of is also topped with a metal stopper that is inspired but the first U.S. coinage containing 15 stars, engraved by the American artisan Robert Scot. I love this incredible attention to detail!
This inaugural release is extremely limited to just 1,650 bottles and will be exclusively made available in Kentucky as a tribute to the 15th state.
Let's have a look at what's in the bottle and have a taste!
---
The Facts
Name:
15 Stars Timeless Reserve
Producer:
15 Stars
Origin:
Bardstown, Kentucky (DSP-KY-20037)
Classification: Kentucky Straight Bourbon Whiskey
Style: Non-chill filtered, Blended Small Batch
Mashbill: Undisclosed
Barrel entry proof: Undisclosed
Barrel char: Undisclosed
Warehouse: Undisclosed
Vintage / Release: 2022, Kentucky exclusive – 1,650 bottles
Age: 14 Years
Proof / ABV: 103 / 51.5% ABV
Closure: Metal stopper w/ natural cork
Format: 750ml clear glass bottle
Suggested Retail Price: $279.00
Our cost: $279.00
Cost per year aged: $19.93
Average cost per pour: $11.00
Awards SFWPC – Double Gold, IWSC 95 Points, Ascot Awards Double Platinum, John Barleycorn Awards Double Gold
---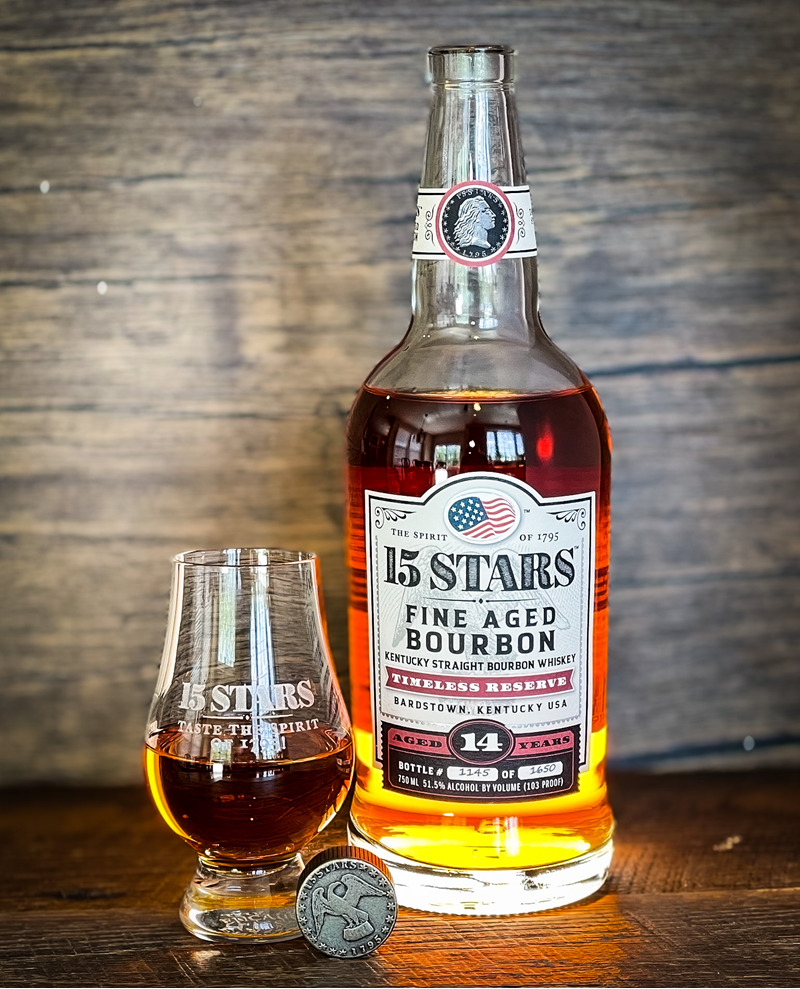 Tasting Notes
Tasted in: Glencarin, neat
Color: Tawny 1.4
Nose: Butterscotch, tobacco, hint of orange zest
Palate: Oily mouthfeel with notes of vanilla, crème brûlée, leather, chocolate, oak
Finish: Oak, tobacco, and leather into a subtle spice.
---
Final thoughts
Full disclosure, I was originally sent a 200ml sample by 15 Stars to sample. However, I enjoyed it so much I went hunting and was able purchase bottle #1145 of my very own 15 Stars Timeless Reserve at my local Kentucky local bottle shop.
This is a well-aged, well blended, complex whiskey. From the mouthfeel to the finish, this is an exceptional sipper. Without a doubt this is an expensive bottle of whiskey at $279 but you must recognize the craftsmanship that went into the liquid that's in the bottle. The bottle carries a 14-year age statement, but I personally think some older whiskey stocks of 17 years plus were used in the blend. While this is purely my own speculation, whatever the blend may be, it works perfectly in this extremely limited release of only 1,650 bottles. I thoroughly enjoyed this pour! I thank my lucky stars, all 15 of them, that I was able to locate a bottle for my own bar and look forward to sharing with family and friends so that they may also "Taste the Spirit of 1795" from 15 Stars.
Lastly, lots of things are in motion for upcoming releases of 15 stars, the Johnson's are hard at work and have chosen to craft future releases with new mashbills that will use heirloom grains and strains of corn, including a baby black corn and a patriotic mix of red, white, and blue corn. Until then, like all things with bourbon, these things take time, and we must be patient while they rest in the barrels.
"At a time when bourbon production is increasingly taking place across the country, we're doubling down on Kentucky, we see this brand as a way to pay tribute to more than 225 years of Kentucky bourbon craftsmanship."
-Head Blender Ricky Johnson.
15 Stars Timeless Reserve – "Taste the Spirit of 1795" | A Toast to Kentucky as the 15th State – Cheers!
---
15 Stars
,
15 STARS collection
,
15 Stars Timeless Reserve
,
Bardstown
,
Blended Whiskey
,
DSP-KY-20037
,
Heirloom Grains
,
Kentucky Straight Bourbon Whiskey
,
Rick Johnson
,
Ricky Johnson
,
Tasting Notes
---
You might also like
---